In every issue of our Aycliffe Business magazine, we take a break and sit down with a different employee or business owner/leader to ask them 20 questions about a variety of subjects.
In our latest edition, Laura Flood, from Aycliffe-based C&A Embroidery and Print, answers our 20 questions over a cuppa…
1: What do you do?
A: Director at C&A Embroidery and Print, where I am involved in all parts of the business from running the machines, taking orders and meeting new clients.
2: Who have you worked for in the past?
A: I started working for C&A as an apprentice straight after college, but I did have a part-time job as a groom on an event yard whilst I was at college.
3: Best part of your job?
A: Working with some great clients and establishing relationships which leads to repeat business and happy customers. Also, being able to take my dog Billy to work is great, he is very popular with all of our customers!
4: Is there anything about your job that you really don't like?
A: No not really, I enjoy most things about my job and love being my own boss.
5: Favourite thing about working on Aycliffe Business Park?
A: The community feeling and working with a wide variety of businesses; the growth of the park is exciting.
6: Which company/individual on the park do you do the most work with?
A: We work with a few different businesses on the park including ALM Products, Collins Seafood, SWDT, Haystacks Nursery, Optimum Skills and Beaumont Landscapes. But we would love to meet and work with lots more businesses on the park.
7: Who's your tip for future success?
A: There are lots of inspirational businesses around the park but an article I read on LinkedIn a couple of months ago, Ben Francis the owner of Gym Shark and how his business grew through social media was something that inspired me. They understood what their customers wanted and delivered – and, most importantly, took the risk which paid off for them.
8: Four famous people you'd love to have round for dinner and why?
A: Sara Davies, a local businesswoman from the area and I love watching Dragons' Den, it would be great to meet her for some business tips and advice! Lord Sugar, for his success stories and straightforward talking. Zara Phillips, my childhood sports hero; and Daniel Craig, I love all James Bond films.
9: If you could do something else in business, what would it be?
A: It's not something I've really thought about as I love what I'm doing, but if I was to do something else, I think it would involve event/holiday planning. I love planning and organising holiday and trips away.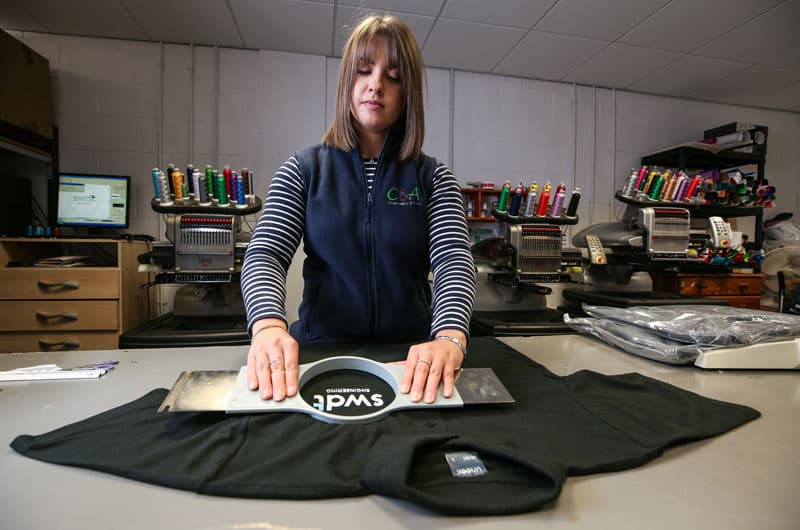 10: Who's your favourite Tweeter?
A: I do have a Twitter account but it's not something I use, it's definitely something I need to get into!
11: Have you ever done anything really daring?
A: Scuba dived in the Great Barrier reef which was pretty scary with all the fish and reef sharks! I've agreed to do a sky dive to raise money for a local charity so that will be a challenge for me.
12: What's the best piece of business advice you've been given?
A: Follow your dreams and believe in yourself. Also never underestimate a small order, as you never know who is behind this and could lead to a dream client.
13: If money was no object, what would be your ideal car?
A: I'm not really into fancy cars, but a Ferrari would be amazing.
14: Money no object, your dream holiday would be?
A: A relaxing holiday on a water villa in the Maldives or a road trip around America!
15: Do you have a favourite band or type of music?
A: I like all types of music; I mainly listen to pop/chart music. I've been to see Jess Glynn, Take That and Ed Sheeran live, who were all amazing.
16: What is your greatest achievement?
A: Running my own business.
17: How would you best describe yourself in four words?
A: Determined, ambitious, patient, easy-going.
18: Where do you see yourself in five years?
A: Continuing to run a successful business which has expanded into larger premises on the business park.
19: Who's the most famous person you've ever met?
A: Sir John Hall, he presented me with my first-class honours degree in leadership and business management.
20: Do you have any guilty pleasures?
A: Gin, wine and chocolate!