In every issue of our Aycliffe Business magazine, we take a break and sit down with a different employee or business owner/leader to ask them 20 questions about a variety of subjects.
In our latest edition, Julie Turnbull from The Work Place answers our 20 questions over a cuppa…
1: What do you do?
A: I'm the assistant business nanager at The Work Place, a business, training and events centre on Heighington Lane.
2: Who have you worked for in the past?
A: I worked for Durham Education Business Partnership, part of Durham County Council, for 20 years in a team which promoted education and business links. My boss at the time had a vision of creating somewhere for people, especially young people, to learn, work, thrive and achieve. She very unexpectedly inherited a large sum of money which went into creating The Work Place, registering it as a charity and encouraging its use by all. When I took my voluntary redundancy from the council in 2017, I was lucky enough to be offered a position with The Work Place and it's been a great three years.
3: Best part of your job?
A: Networking. Having never really networked before I started this role, I was very apprehensive about it, but I believe in the ethos of The Work Place so its easy to promote it and the business community are a lovely bunch of people to be around.
4: Is there anything about your job that you really don't like?
A: I.T.!
5: Favourite thing about working on Aycliffe Business Park?
A: The community spirit, I love the way companies liaise together, recommend each other and work together.
6: Which company/individual on the park do you do the most work with?
A: We work with many businesses on the park, but would always love to work with more!
7: Who's your tip for future success?
A: There's a mass of young talent out there, difficult to pick one.
8: Four famous people you'd love to have round for dinner and why?
A: Seb Coe, Lucy Worsley, Agatha Christie and Roger Bannister. I love sport, history and mystery so think the combination would prove to be an interesting evening.
9: If you could do something else in business, what would it be?
A: I need to believe in what I'm doing. I'm a trustee for a small animal charity – Binky Buns, which recues abandoned, neglected and abused bunnies and guinea pigs – but I'd love to do more. Beyond that, I love gardening, believe in mental health support and would like to stay in the charitable sector. If I could create a job out of all that, I'd do it.
10: Who's your favourite Tweeter?
A: Brené Brown.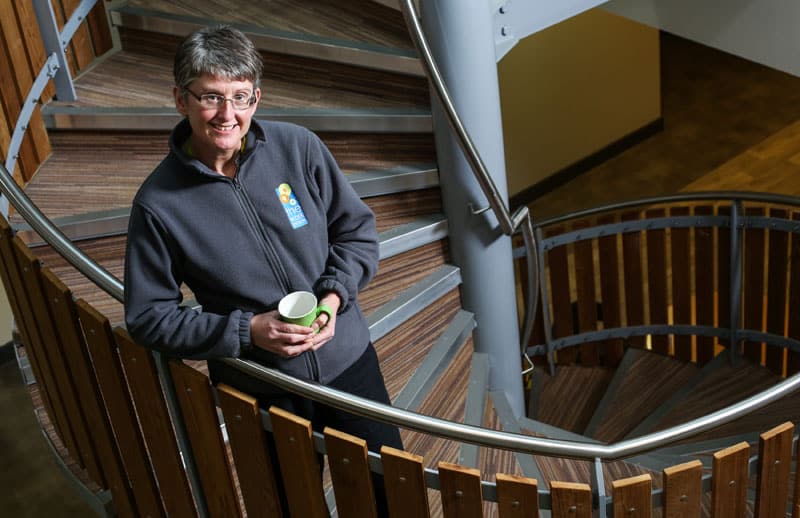 11: Have you ever done anything really daring?
A: I once jumped out of a plane at 10,000ft to do a tandem skydive over the Whitsunday Islands.
12: What's the best piece of business advice you've been given?
A: Listen.
13: If money was no object, what would be your ideal car?
A: This maybe isn't a very business savvy thing to admit but I'm not very motivated by money, I have a little car which gets me from A to B and that's good enough for me.
14: Money no object, your dream holiday would be?
A: Australia. Having back-packed around the country many years ago, I'd love to go back and experience more.
15: Do you have a favourite band or type of music?
A: I listen to a wide range of music but don't have a favourite.
16: What is your greatest achievement?
A: Learning to overcome a lifelong battle with Emetophobia and Obsessive Compulsive Disorder. After years of trying to keep it hidden, fighting for the correct treatment and a lifetime of challenging thoughts and compulsions, I received a successful course of CBT in 2015 which has allowed me to live again. Recovery is possible!
17: How would you best describe yourself in four words?
A: Loyal, fair, hard-working, curious.
18: Where do you see yourself in five years?
A: Hopefully, not still under Covid restrictions and wearing a face covering! I'm a 'take one day at a time' type of person, so I'll just see where life takes me.
19: Who's the most famous person you've ever met?
A: I didn't actually meet them but I saw the Queen and the Queen Mother arriving at the theatre in London for the Queen Mother's 100th birthday, and that really was something.
20: Do you have any guilty pleasures?
A: I love chocolate and if you've ever tasted the hot chocolate at The Work Place you'll know why I love that too!