In every issue of our Aycliffe Today Business magazine, we take a break and sit down with a different employee or business owner to ask them 20 questions on a variety of subjects.
In the latest issue, Ramseys service manager Elliott Ramsey is in the Aycliffe Today chair…
1: What do you do?
A: Service manager is my day to day job, I also run our campervan hire business.
2: Who have you worked for in the past?
A: Nobody else, I started working for the family business straight from school.
3: Best part of your job?
A: Building good relationships with customers, being part of a family-run business
4: Is there anything about your job that you really don't like?
A: The cold, a workshop in winter is a tough place to keep warm.
5: Favourite thing about working on Aycliffe Business Park?
A: The friendly atmosphere and sense of community spirit. It's handy living so close to where you work, too.
6: Which company/individual on the park do you do the most work with?
A: Great North Air Ambulance Service, we service and maintain their fleet of vehicles, both trade and charity sides. We're very proud to have GNAAS as a customer, they provide an invaluable and amazing life-saving service.
7: Who's your tip for future success?
A: Pixel Media… those lads are amazing at what they do. Brilliant fellas to work with, too.
8: Four famous people you'd love to have round for dinner and why?
A: Bob Mortimer, Jeremy Clarkson, Ian Brown and Micky Flanagan.
9: If you could do something else in business, what would it be?
A: Working with cars was always the plan. Although I really enjoyed woodwork at school, so I would enjoy being a joiner.
10: Who's your favourite Tweeter?
A: I don't Tweet, but I've heard Piers Morgan is an interesting Tweeter.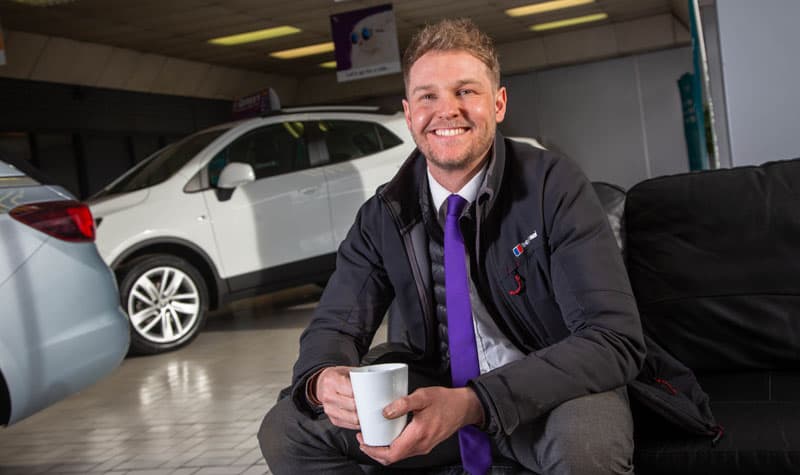 11: Have you ever done anything really daring?
A: Maybe not daring, but being best man at a friend's wedding a year ago was pretty nerve-racking, once the speech was over I could properly relax.
12: What's the best piece of business advice you've been given?
A: Never presume – and always speak to people how you want to be spoken to.
13: If money was no object, what would be your ideal car?
A: An Alfa Romeo Giulia Quadrifoglio.
14: Money no object, your dream holiday would be?
A: Travelling across America would be the ultimate for me. It has a little bit of everything to offer.
15: Do you have a favourite band or type of music?
A: I am into loads of different music, but I can't stop listening to the new Sam Fender album at the moment.
16: What is your greatest achievement?
A: Starting our campervan hire business. We've had such a good first two years, we have expanded the business and invested in another campervan. It's such an exciting year coming up.
17: How would you best describe yourself in four words?
A: Honest, reliable, resilient and smiley. Got to smile, haven't you?!
18: Where do you see yourself in five years?
A: In the same place – another campervan to hire out would be a bonus.
19: Who's the most famous person you've ever met?
A: The Queen.
20: Do you have any guilty pleasures?
A: Love Island… I'm not even sorry.