By Martin Walker
Four Newton Aycliffe boys have caused a social media stir through their act of kindness.
Woodham Academy year 7 pupils Sam, Jack, Charlie and Cameron spotted a homeless man in Aycliffe town centre on Thursday afternoon (see picture below).
But instead of doing what might be expected of young lads – either teasing or mocking the unfortunate gentleman – they instead raided their bags and pockets for money to buy him food and drinks.
They treated him to some cakes from Love Thy Cupcakes as well as crisps, biscuits, water and Lucozade – "because he needed some energy".
Little did they know that a passer-by took a picture of the incident and posted it on Facebook, which went viral and to date has had 7,350 likes and 1,620 shares.
Now the humble boys say they feel more grateful for the things they have.
Sam said: "We felt sorry for him so we asked if he was OK. We went and got him some cupcakes and some crisps and biscuits."
Click here to see our Video Interview with the boys
Jack said: "I got him a bottle of orange juice, four packets of crisps and some Lucozade, because he said he needed some energy."
Cameron added: "I found a pound in my bag and I went over to Heron and got him some chocolate biscuits, two breakfast bars and a big bottle of water."
Charlie sat down next to the unidentified man and said he thought he looked sad.
"I asked if he was going home, and he said he didn't have a home, and at that point I felt dead sad for him," he said.
"We felt bad that he didn't have the stuff we had. In the future I'm going to be happy with what I've got."
The act of kindness has provoked several comments on social media praising the boys, while Woodham Academy has received a number of phone calls from members of the public congratulating the "fantastic four", who were treated to a VIP day at school on Friday.
"We were just being kind. We were just helping him," said Cameron.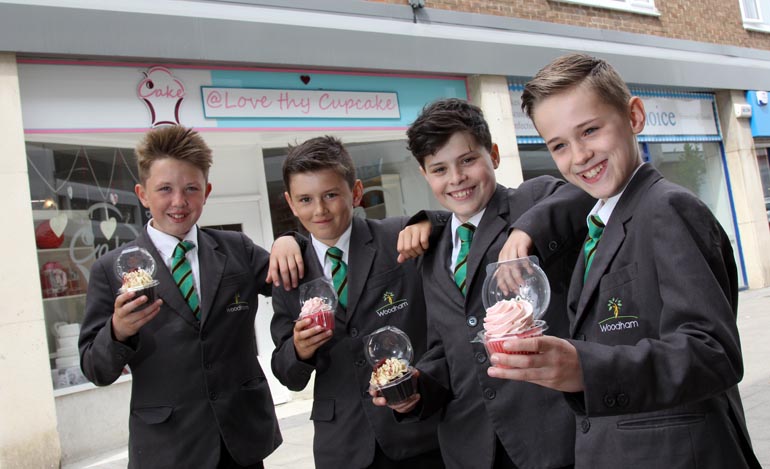 "When I was walking home I was thinking, he doesn't have a home, what will he be doing now? I felt really sorry for him and grateful for everything I've got.
"When I don't get my own way I'm not very happy, but I realised he can't help but not get his own way."
Woodham's proud head teacher Christine Forsyth said: "We teach our students to respect other people.
"This is a wonderful example of unconditional respect for another human being.
"We are very proud of the boys, of their actions and of their values."
Below is the picture taken by a passer-by which shows the boys taking the food and drinks to the homeless man.