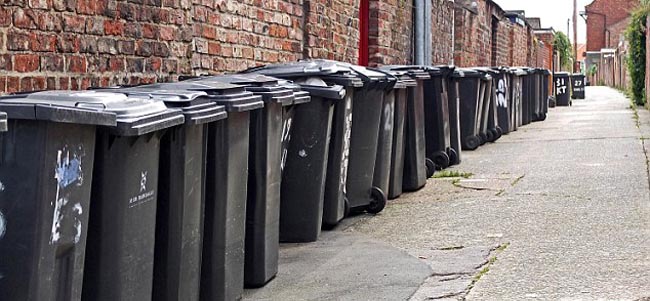 Newtonians are being asked to check for changes to their refuse and recycling collections over Christmas.
Bins will be emptied as normal up to and including Friday 21 December, with the following changes over Christmas and New Year.
| | | |
| --- | --- | --- |
| Normal collection day | Revised collection day after Christmas | Revised collection day after New Year |
| Tuesday | Thursday, 27 December | Wednesday, 2 January |
| Wednesday | Friday, 28 December | Thursday, 3 January |
| Thursday | Saturday, 29 December | Friday, 4 January |
| Friday | Monday, 31 December | Saturday, 5 January |
Normal collections will resume on Tuesday, 8 January.
Residents should check their collection calendars for details of all collection dates or go online at www.durham.gov.uk and enter their postcode in the 'My Durham' section.
Details of collections over the festive period are also available at www.durham.gov.uk/holidaybins
Real Christmas trees can be taken to any Household Waste Recycling Centre in the county where they will composted. Alternatively, call 03000 26 1000 before Monday, 7 January to arrange for a tree to be collected by the council.
Remember to recycle your extra waste this Christmas. Plastic bottles, tubs and trays, metal cans, cardboard packaging, cards and wrapping paper should be placed in the recycling bin. Glass bottles and jars should be put in your recycling box.
Find out more about what you can recycle at Christmas by visiting www.durham.gov.uk/recycling