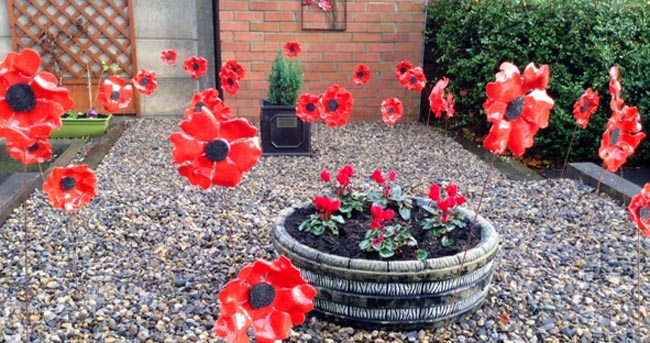 It seems everyone has heard about or been to visit Blood Swept Lands and Seas of Red at the Tower of London but now Newton Aycliffe has its own, albeit smaller version of the hugely successful poppy installation.
The ceramic poppies in London were created by ceramic artist Paul Cummings, with setting by stage designer Tom Piper. In total 888,246 poppies fill the Tower's famous moat, one for every fatality during the war.
When Woodham Academy was approached by Defoe Court Nursing Care Home in October to produce some 3D artwork to brighten up their new remembrance project in the grounds of the care home the Art department simply couldn't say no.
The staff and residents at the home had been very busy knitting their own poppies which they have been selling to raise money for the poppy appeal.
The vision was to create a space where residents at the care home could go to remember the fallen soldiers of war without leaving the grounds of the care home.
Residents and care workers were over the moon with their new installation of 35 poppies hand crafted by the students during their lessons in the last few weeks of term.
The acrylic poppies looked fantastic swaying in the breeze despite the rather cold and wet weather conditions when the poppies were unveiled.
Woodham Academy Head of Art, Lynsey Tait, said: "It is always great for students to work on external projects and it was especially nice to see all the people we were doing it for when the home invited us to a celebration morning on the 7th November."
Students and staff from Woodham Burn Primary school who had also produced artwork for the home were also present when the Reverend Christopher Pearson came to bless the garden and lead a small service for the residents before the main candle lighting service planned for Remembrance Sunday.