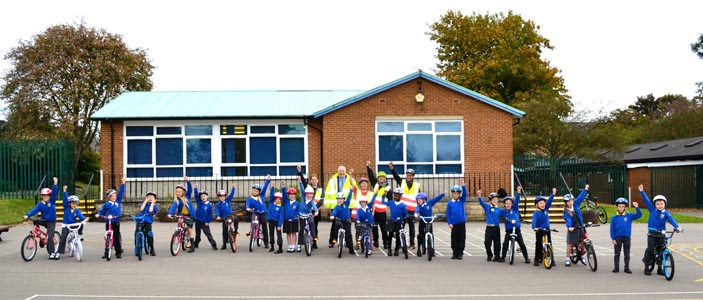 Funding has been secured to offer vital cycle training to 1,000 extra children in County Durham.
Durham County Council has been awarded £20,000 by the Department for Transport to deliver Bikeability sessions to primary school pupils in Year 3.
The training is provided in three progressive stages with levels one and two normally delivered together over four weeks to pupils in Years 5 and 6.
But the extra funding will mean around 1,000 children will be able to start at a younger age.
The first school in the county to benefit is St Joseph's Primary in Gilesgate, Durham City, where Year 3 pupils have undergone level one training.
Head teacher Angela Boyle said: "We are delighted to be the first primary school in County Durham to have the level one course delivered to our Year 3, and some Year 4, pupils.
"The children have had great fun during the sessions and have been given high quality training by excellent instructors."
More primary schools have signed up for the course and others will be contacted and offered the chance to book their pupils in for this important safety training.
Level one training takes place on the school playground and focuses on basic bicycle control skills such as braking safely, riding in a straight line, riding around obstacles and using gears effectively.
The second stage involves 'on road' cycling on risk-assessed, quiet local roads in real traffic conditions. Children are taught road positioning, how to pass parked cars and how to make left and right turns into major and minor roads.
Level three is for secondary school students where training takes place on busier roads with more complex junctions.
Paul Watson, road safety manager at Durham County Council, said: "More than 20,000 children have received Bikeability training from our road safety team since we started providing it in 2009.
"We are delighted to have secured the funding to enable an extra 1,000 pupils to benefit from this vital road safety training. Our aim is for every primary school child to have the opportunity to receive the training."