A group of children got a glimpse into the future when they saw the steel which will build their new school being fabricated in a factory.
The Newton Aycliffe youngsters even got to sign some of the steel beams as construction firm SCH Site Services welcomed them to the firm's premises on Aycliffe Business Park.
Main contractor Kier Construction awarded SCH a deal to fabricate and erect 115 tonnes of steel for Vane Road Primary School's new building on Central Avenue in Aycliffe.
SCH has now completed the six-week programme as Kier continues work at the site, adjacent to the school's existing building, which is expected to open in September 2018.
The school project comes as SCH celebrates a raft of contract wins totalling more than £2m to end 2017 on a high.
The Aycliffe family-run firm has bagged five other steel projects including constructing city centre apartments in a Birmingham grade II listed building for Torsion, a new warehouse for Wharton Construction at Stiller Warehousing and Distribution in Aycliffe, a student accommodation development in Coventry for CPUK, a Science laboratory at Newcastle University for Kier Construction and the Hylton Castle Visitors' Centre in Sunderland for William Birch & Sons.
SCH managing director Gary Finley said: "We're really pleased with the way 2017 has ended, with contracts won from October totalling £2.2m and taking our work into February.
"We have picked up a lot of new clients recently, Kier Construction being one of them, and we are really excited to see what 2018 brings."
Finley said it was particularly pleasing to welcome local children into his firm's factory on a local project.
"We feel really proud to be working on Vane Road Primary School," he added. "It's really satisfying to see the work we do benefitting the local community.
"When the children from Vane Road came to visit SCH they were an absolute pleasure. They all behaved impeccably and were really interested to find out how their new school was going to be built."
During their visit to SCH, 24 Vane Road students got to see the process from design to construction as the firm's engineers showed them digital plans of the new building.
The youngsters, aged between seven and 11, then saw the steel being fabricated on the shop floor before they all signed parts of the beams which are already on site ready for the structure's next development phase.
The schools' head teacher Kieran Pavey said: "It was a fantastic opportunity for the children to go to a local company and see how their new school is being built.
"The new build is being constructed next to our existing site, so we've been doing lots of work with the children around the whole project and the actual fabric of the building, so they don't just think of it as a big steel structure being built.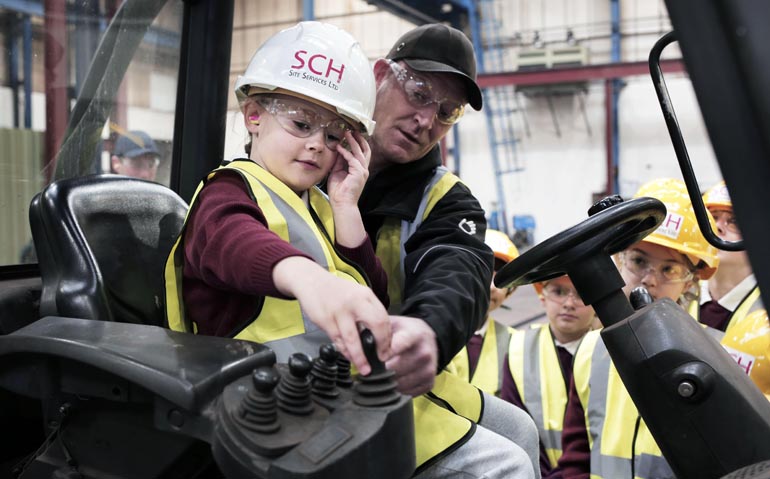 "It was also goods for our students to see some of the work hands-on, and that may well inspire some of them to become engineers.
"One of the groups was led by a female engineer, and in what is a male dominated industry maybe we can inspire some of our young ladies to consider a career in engineering, which would be fantastic."
Formed in 2006, SCH first operated as a crane hire company with four mobile cranes and four drivers working for local companies, but it grew into steelwork and in 2011 recorded a turnover of £325,000.
After moving into new premises in 2012, annual sales have grown to £4.5m, while staff numbers have doubled to more than 40 in the last five years.
As well as Kier Construction, SCH also includes Sir Robert McAlpine, Hall Construction, B&K Structures, Wates Group, Interserve, Peikko and Balfour Beatty among its impressive client list.
For more details about SCH, go to www.schsiteservices.co.uk or call them on 01325 327149.