Staff, volunteers and patients at Butterwick Hospice in Bishop Auckland turned out to cheer on their very own DIY SOS team of professionals after the charity won a Newton Aycliffe company's 2016 Community Challenge.
A 20-strong workforce from JDP Contracting Services, the largest specialist roofline contractor in the North, rolled up their sleeves to carry out vital roof repairs at the Hospice, replacing rotting guttering and fascias as well as helping to decorate and garden.
Butterwick Hospice Care adds quality of life for people who are suffering from a progressive life-limiting illness and supports their families. The registered charity won the third Community Challenge organised by Newton Aycliffe-based JDP Contracting. The winner not only benefits from the team's free labour but is also given all the materials necessary to complete the job that they outlined in their application.
Entries come from a wide range of community groups and have included village halls, a nature trail, petting zoo, church groups and a rugby club.
UK Steel Enterprise, the Tata Steel business support subsidiary, also chipped in with a £2,500 grant from its Community Support Fund, set up to help projects that improve the quality of life for people living in its steel areas.
Graham Legatt-Chidgey, Chief Executive of Butterwick Hospice Care said: "Given the age of the building, it badly needed repairs and replacements to the roofline. We wanted to re-decorate the external fascia but had to do the repairs first. We couldn't have been more delighted when we heard our application to the Community Challenge had been successful.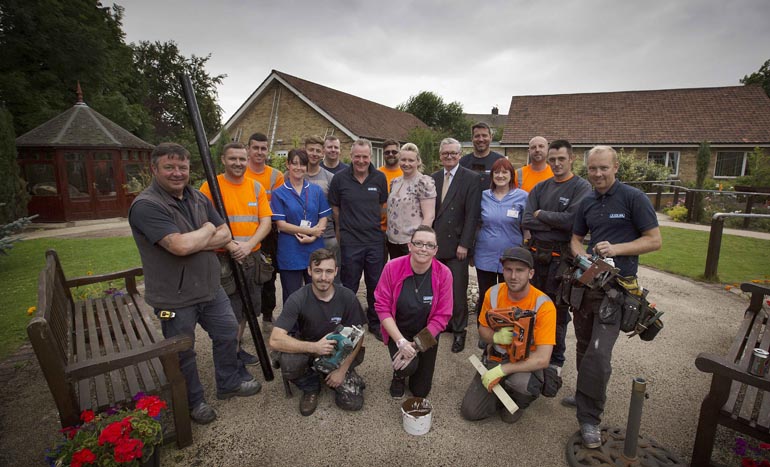 "It costs more than £4m every year to maintain Butterwick's services and support is provided freely to local people and their families. With limited statutory funding we rely on donations and support from all sectors of the community, including local businesses. The Challenge has given us the invaluable help of a highly professional workforce from JDP, free materials and the support from UK Steel Enterprise.
"Some of our dedicated volunteers were on hand to help out and provide refreshments and, with a barbecue to follow all the hard work, it was a fantastic day."
Chris Hyde, Managing Director of JDP Contracting, said: "Everyone at the company sees the Challenge as a great opportunity for us to do something for the community.
"We have an on-going business relationship with UK Steel Enterprise so we're very pleased that they wanted to contribute and are also grateful for the donation of building materials from Swish Building Products and Jewson Ltd. Butterwick Hospice is a worthy winner and it has been great seeing this project completed today."
Sarah Thorpe, of UK Steel Enterprise said: "We were only too happy to back the Challenge as the Hospice helps so many patients and their families to deal with life-limiting illnesses in a whole range of ways.
"UK Steel Enterprise backed JDP Contracting with a six-figure investment to open a second centre in Sheffield, where we have our own HQ, and we have supported its first Community Challenge there too. It is just great to see businesses, organisations and volunteers all coming together to help the community."