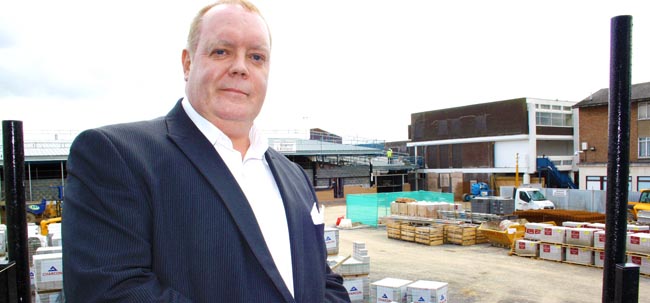 By Martin Walker
Newton Aycliffe's town centre manager says he understands residents' scepticism around the long-awaited development of the shopping centre.
Bryan Haldane is employed by the town centre management, and is delighted to see Aldi's proposed new £1.5m store starting to take shop – it'll be open for Christmas this year.
The Aldi development will complete the first of three phases in a £3m makeover which will take another three years to complete fully.
The old Midlands bank building will be separated into two or three individual retail outlets, while the first floor of space above the Dalton Way shops will be made into flats.
Eventually, the Beveridge Way row of shops next to the town clock will be demolished to open up that end of the town centre.
The ramp leading up to Coffee Pronto will also be demolished, while new paving, lighting and trees will give the whole centre a new look.
It's hoped the makeover will attract high street retailers to the town, while exciting new shops like Boola – a designer clothes store for men and women opposite Boyes – are already filling unused units.
Mr Haldane appreciates the frustrations of Aycliffe residents after years of trying to get the redevelopment off the ground.
In a Video Interview with Aycliffe Today, he said: "We understand their frustrations as a company.
"Part of the problem was the main development on Central Avenue (Tesco). We weren't involved in that.
"After its conclusion in 2008 we created a master plan for the town centre, in conjunction with Durham County Council, Sedgefield Borough Council (as it was) and the PCP, and we've been working towards that since then.
"It's a big change for the town centre. Although it's been loved, it's starting to show its age.
"Works will go through to 2015, so we've still quite a long way to go, but this is a very good starting point.
"From January 2013, we'll be re-paving the whole centre, there'll be new lighting, new trees, new seating and bins, we're looking to upgrade shop frontages… there's a whole variety of work we're looking to do over the next two to three years."
Go to our Video Vault to see our exclusive interview with Mr Haldane.