Sporting achievements were celebrated when Greenfield Community College held its annual Sports Presentation Evening.
This year has seen Greenfield embark on an exciting journey where PE has continued to grow across two campuses.
The level of PE and school sport has been to an extremely high level with achievements on an individual and team basis, both on the Aycliffe and Sunnydale Campuses.
All pupils who attended received a certificate to celebrate their achievement in the many extra-curricular clubs that Greenfield offers throughout the year.
They include football, netball, rugby, athletics, cricket, tennis, badminton, table tennis, cross-country, rowing, dodgeball, basketball, wheelchair basketball, indoor athletics, girls football, rounders, trampolining, gymnastics, sports leadership, boccia and handball.
The evening encapsulated a whole year of sporting success at Greenfield which has seen PE and Sport continue to thrive within the school.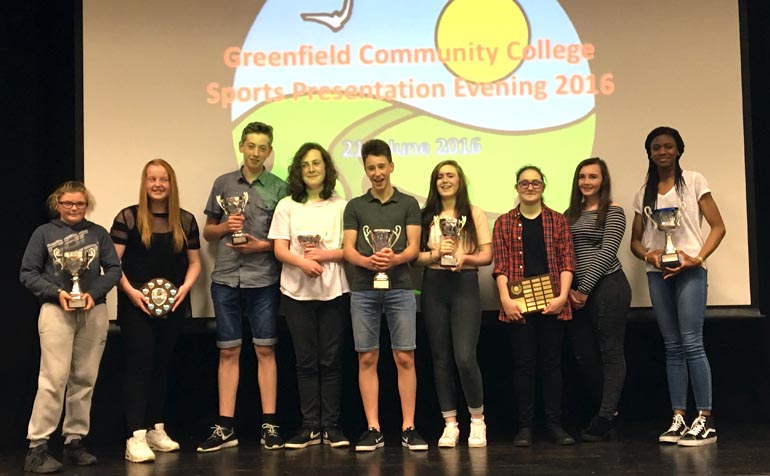 The first half of the ceremony presented opportunity to celebrate winners for personality, commitment, most improved, team of the year, sports leader, outstanding club performance and a dance award for outstanding commitment and performance.
At the midway point of the evening a range of pupils were invited up onto stage for the infamous entertainment round, which was themed around a Question of Sport – a Euro 2016 edition.
The final round saw a pupil from each team lead and act out sporting phrases and actions in the charades round for their team to guess, which, needless to say was extremely popular with the audience.
At the end of the evening the two most prestigious awards were presented for Outstanding Performance in School Sport, with Adam Ord winning the accolade for the second year running for the boys and Christina Shodunke for the girls.
Award winners
Sports Personality Male & Female – Connor Elston (Aycliffe Campus), Cain Smith (Sunnydale Campus), Tamara Gale (Aycliffe Campus), Ellie Geary (Sunnydale Campus).
Commitment to Sport Male & Female – Matthew Davis (Aycliffe Campus), Danielle Ord (Aycliffe Campus).
Most Improved Male & Female – Ethan Suter (Aycliffe Campus), Brooke Watson (Aycliffe Campus).
Team of the Year – Year 7 Netball Squad (Aycliffe and Sunnydale Cross-Campus Team)
Outstanding Performance in School Sport Male & Female – Adam Ord (Aycliffe Campus), Christina Shodunke (Aycliffe Campus).
Sports Leader Award – Charlotte Hugill (Aycliffe Campus)
Outstanding Club Performance Outside of School – Nathaniel Kitching – Rugby League (Sunnydale Campus)
Dance Award for Outstanding Commitment and Performance – Hannah Day (Aycliffe Campus)