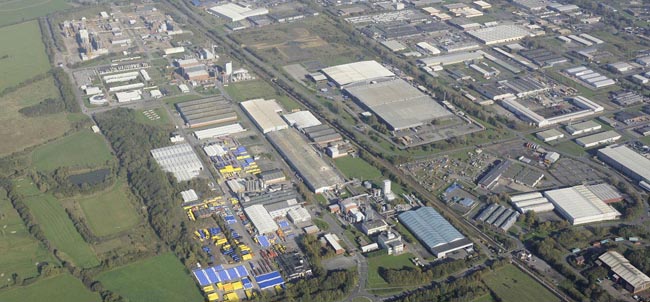 By Martin Walker
Newton Aycliffe's ambitions of having the biggest business park in the North-East have taken another huge step forward.
Durham County Council (DCC) has secured £10m-worth of funding to start developing the second phase of Merchant Park, adjacent to the Hitachi Rail Europe site.
The Government cash, secured by DCC from the Single Local Growth Fund, will make provisions for a potential 48-hectare (480,000 square metre) manufacturing hub to complement Hitachi's £82m train-building factory on Aycliffe Business Park, which is scheduled to be completed late summer 2015.
It's estimated the new development could create 3,400 new jobs for the town.
As part of the plans, major improvements to nearby roads and junctions will also be made to allow better access for businesses looking to take advantage of Hitachi's £5.8 billion contract to develop the next generation of train carriages at the site.
The exciting news comes eight months after DCC officials revealed in a County Plan to potentially develop 123 hectares of land for business use in Aycliffe – the proposals were submitted to the Government earlier this year.
DCC has also secured funding for a number of other developments around the region, including NETPark in Sedgfield.
Cllr Neil Foster, cabinet member for economic regeneration, said: "The funding announcements are fantastic news for the residents and businesses of Country Durham which will make a hugely positive difference to job prospects and the overall economy.
"Hitachi's base in Newton Aycliffe has presented massive opportunities for local businesses to be part of the supply chain for the new trains meaning more jobs for local people.
"The proposed Merchant Park 2 development will allow even more companies and residents to access better opportunities for years to come.
"When the County Durham Plan was first announced, it contained no provision for extra growth in the Aycliffe economy, and I can remember that we campaigned very hard to have extra business space added into the Plan.
"This development gives us cause to hope that our aspirations for growth on the Aycliffe Business Park will now come to fruition."
DCC has also secured funding to further develop North East Technology Park (NETPark), in Sedgefield, with £6.8m awarded to an £8m expansion scheme and £7.4m being contributed to the Centre for Process Innovation's (CPI) proposed £14.4m Centre for Innovation in Formulation.
Already a world-leading facility for printable electronics, NETPark is also home to world-class research, including that of Durham University, and an ever-expanding cluster of businesses on the cutting edge of technology and innovation.
The funding will see a further 30 hectares of land opened up for development and the CPI developing radical new ways of manufacturing complex formulated products for both local businesses and multi-national companies.
As well as boosting the local economy the funding is expected to create a further 2,400 more high value jobs in the area.
Meanwhile, as part of a range of funding for transport projects across the region, Durham City will benefit from the announcement of £6.3m towards the proposed Western Relief Road.
Provisionally allocated for 2016/17, the funding will contribute towards the £30m scheme to be delivered if the County Durham Plan is adopted.
Greener transport across the region was also boosted with the announcement also including funding towards the region's £7.5m Local Sustainable Transport Plan.
The money will be used on a range of projects across the North East including schemes to increase cycling, improve key transport gateways, such as Durham Station, and further joint work on urban traffic management across County Durham and Tyne and Wear.
A further £6m has also been allocated towards the Rural Growth Network with the partnership planning projects to boost business in rural areas across the region.
Cllr Foster added: "In NETPark, County Durham already boasts a leading science, engineering and technology park.
"This funding puts innovation and business even more at the heart of our growing economy and sends out a clear signal that NETPark will go from strength to strength for generations to come.
"The expansion is expected to generate further investment of over £200m in the next ten years, creating 2400 high value jobs.
"The proposed relief road around Durham City will reduce traffic resulting in quicker and easier journeys for hundreds of people every day.
"We're delighted that the strong case we put forward for County Durham as a place to invest in for the future has been backed by the Government and the North East Local Enterprise Partnership."