A charity fundraiser has upped his target of making cash for blood cancer research to a whopping £25,000 after a hugely-successful evening ball.
The meticulously planned black tie dinner and ball was intended to bring the curtain down on Paul McGeary's relentless campaign at the weekend.
But after raising more than £6,000, and pushing his grant total to nearly £20,000, it has spurred the Leukaemia-suffering Newtonian to keep on raising money for the charity Bloodwise (formerly Leukaemia & Lymphoma Research).
Paul, 33, was diagnosed with Leukaemia in November last year and through a series of campaigns and events organised by himself, family and friends, a target of £10,000 was exceeded in August when the #NotOneInch group tallied up a superb £13,000 total.
The charity ball was the brainchild of four Durham ladies – affectionately tagged the Heathers Ladies – Aimi Gibson, Hayley Whitehill, Jeanette Holgate and Melanie Winship-Lee, a former colleague of Mr McGeary's at Sedgefield Community College, and took place at Durham's Ramside Hall on Saturday evening.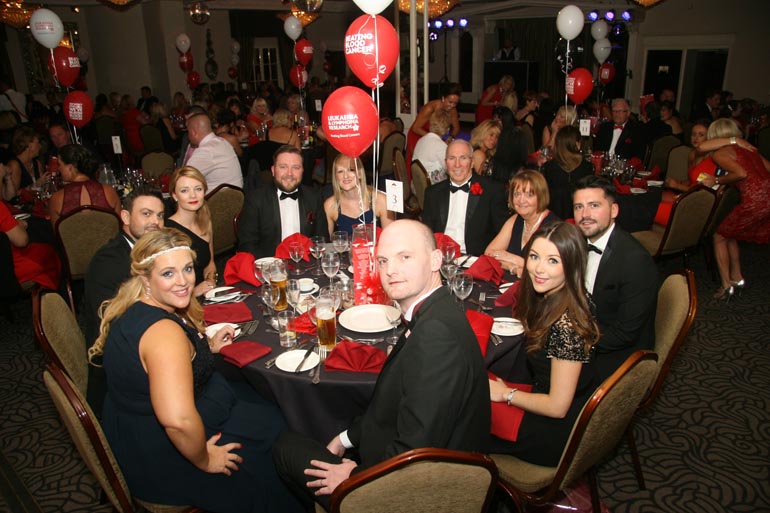 Pictures courtesy of Karl Utley & Jason Allison Photography
The 200-strong sold-out event was compered by comedian Brendan Healy and included a three-course meal, games, raffle, auction, singing entertainment and disco.
At the end of the evening the Heathers group presented Bloodwise with a cheque for £6,200, bringing the #NotOneInch group total to a staggering £19,277.
Speaking after the event, Paul said: "I am truly humbled by the efforts of the four girls and the amount raised was more than double that which they modestly had in mind before the event.
"It is a true testament of their hard work and dedication, that they have been able to raise more than £6000 and bring our running total close to £20k. I know the girls have met regularly over the past six months and the prizes which they managed to gather were fantastic.
"The evening went seamlessly and every single person in the room thoroughly enjoyed themselves into the late hours. Everyone kept commenting on how good the room looked and the entertainment was superb."
McGeary now plans a small campaign to bring the total over the £20k mark before the year is out and in 2016 will once again be calling upon volunteers and ideas as the charity initially pushes to raise £25k.
Anyone with any fundraising ideas is welcomed to contact Paul on 07703732342 or by email at [email protected]
A justgiving page remains open for donations and can be accessed at www.justgiving.com/Paul-McGeary2