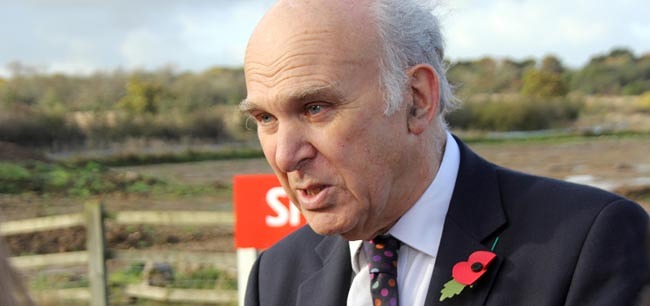 By Martin Walker
Business Secretary Vince Cable has praised Hitachi Rail Europe after the Japanese firm revealed it is working with more than 30 UK-based suppliers for trains which will be built at its Newton Aycliffe factory.
Of those parts, systems and operations that Hitachi Rail Europe could have sourced from the UK for the new trains, 72% have been purchased from UK-based businesses.
It includes windows from Durham-based Romag, wheelsets from Lucchini UK, located in Manchester, pantographs from Somerset-based Brecknell Willis, braking and air generation equipment from Knorr-Bremse in Melksham and lighting from LPA Excil, located in Normanton.
It also includes jumper cable systems from Northampton-based Harting, onboard servers from Newcastle-based Nomad Digital and partitions from TRB Lightweight Structures, luggage stacks and racks from Lordgate, both located in Huntingdon.
In addition, Hitachi handed the main contract of its £82m factory to Shepherd Construction, based in Darlington, while Newton Aycliffe firm Finley Structures is erecting its steel.
Mr Cable, the Lib Dem MP for Twickenham and Secretary of State for Business, Innovation and Skills, said: "Hitachi's decision to work with suppliers from across the country shows that the UK is advancing as a global leader in rail manufacturing.
"The Government is committed to helping companies attract inward investment to develop strong, coordinated and competitive supply chains here in the UK.
"We have created a new Rail Supply Chain Forum to help British businesses win work both here and abroad and I am greatly encouraged to see that world leading companies such as Hitachi are placing their confidence in UK suppliers."
The confirmation comes as the rolling stock provider published a map (click here) highlighting the locations of its various manufacturers across the UK.
It shows that the company's supply chain is drawn from many different regions, including three businesses from the North East, three from Yorkshire and the Humber, and three from the North West.
The announcement cements Hitachi's commitment to supporting UK businesses and developing the rail supply chain.
Following the announcement earlier this year that Hitachi Rail would be moving its global HQ to London, this is another sign of its confidence in the growing UK rail sector.
Hitachi Procurement Director Jamie Foster said: "We are delighted to be working with so many suppliers from across the UK in building our new Class 800 series trains for the Intercity Express Programme.
"Given the high requirements for quality and reliability of our trains, we were keen to work with companies that share our values in this regard.
"As the first three pre-series trains are now being manufactured in our factory, I cannot emphasise enough the high quality and quantity of services our suppliers have provided on the project thus far.
"We will continue working closely with each of them across the rest of the manufacturing and delivery schedule."