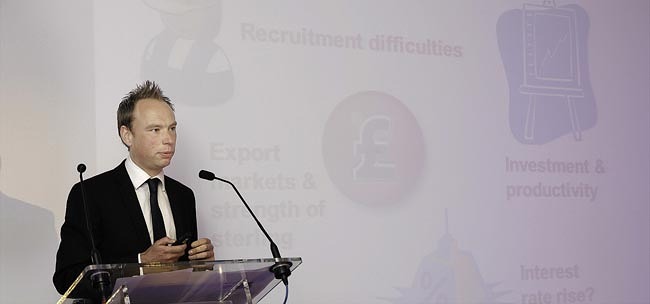 Leading businesses from across the region have pledged to take on manufacturing or engineering apprentices after attending a key business conference hosted by South West Durham Training (SWDT).
The leading training provider played host to Manufacturing in the North East – Engineered for Success in July and asked firms to show their commitment to apprenticeships by signing a pledge.
SWDT has since welcomed a number of key regional businesses to its apprenticeship pledge board, including Hitachi, 3M, Hendersons Engineering, Berco, Ineos and Husqvarna and in return, has pledged to look after the paperwork, provide mentors and even help source funding to simplify taking on the young recruits.
Supporting the initiative were guest speakers including Andrew Hebden from the Bank of England, Sue Houston OBE, Department for Business Innovation and Skills, James Ramsbotham, CEO of NECC and Sarah Slaven of Business Durham.
Andrew Hebden (pictured above), Bank of England deputy agent in the North East, said: "We continue to see evidence of growth in the UK economy, and the North-East certainly reflects that.
"There is no doubt the manufacturing and engineering sector is a central part of that growth story.
"That's not to say things are easy and many firms tell us recruiting people with the right technical skills can be a challenge.
"Many of them are turning to apprentices to fill this skills gap and the growth in apprenticeships has been a defining feature of the recovery in employment across the country, which has to be a positive thing for the future of the economy."
Trevor Alley, chief executive of SWDT who hosted the event, said: "At SWDT, we train up to 300 learners each year in a range of manufacturing and engineering disciplines and techniques to make sure they're job-ready and the event was a great opportunity for employers to meet and interview the trainees to see if they wish to take a learner on a job trial.
"I'm delighted to see leading North East businesses respond to the pledge as not only have they committed to supporting the local community, they've made a great business decision as apprentices are great for business – they provide such measurable business benefits, including an increase in productivity and efficiency, while bringing new and fresh ideas into an organisation."