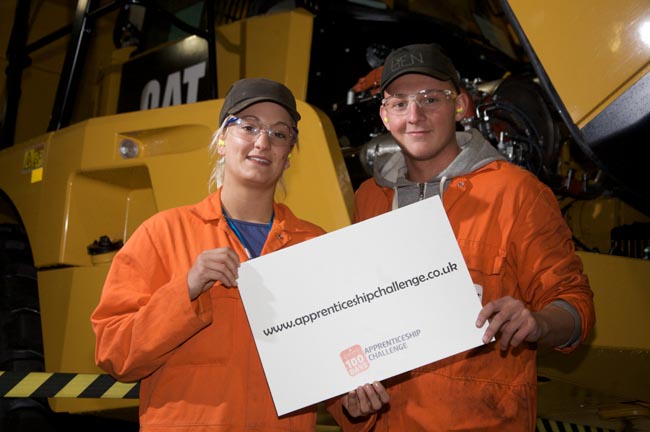 The '100 Days Apprenticeship Challenge' has been launched today to encourage North-East employers to take on more apprentices.
The North East Chamber of Commerce (NECC), working in partnership with The National Apprenticeship Service and 28 local colleges and training providers, is challenging local businesses to increase the number of apprenticeships in the North East over the next 100 days.
Apprenticeships have been going from strength to strength within the North East, with more than 35,000 people starting a qualification last year.
However, it is hoped the 2014 challenge will see more businesses get involved, with apprentices vital to the region's economy and to developing a motivated, skilled and qualified workforce within local firms.
Skills shortages and recruitment difficulties have been raised as concerns in NECC's Quarterly Economic Survey as the recovery has gathered pace.
Apprenticeships offer a route to the fresh talent businesses need, ensuring they have staff with the valuable skills and qualifications they require now and in the future.
NECC chief executive James Ramsbotham said: "With the recovery now accelerating, more firms need to grow their capacity to take advantage of new business opportunities and we can't meet the demand for skilled staff from within the region's labour force.
"It is great to see so many North East businesses responding to this by growing their investment in apprenticeships and our own training team is seeing more and more firms recognise the importance of doing so.
"As the economy grows, it is not only an opportune time to make this investment, it is becoming increasingly urgent to fulfil the potential among our region's businesses and people."
The 100 Days Apprenticeship Challenge, which runs from Monday 31st March until 8th July, encourages investment in training for new recruits and existing staff.
NECC member Caterpillar, based in Peterlee, is embarking on further investment in apprenticeships as the first business to pledge its support to the Challenge.
Caterpillar, which currently has 33 apprentices, will be recruiting more young people to roles across the organisation; from fabrication to paint and auto-electrical.
Caterpillar Peterlee is the only site in the world that manufactures Caterpillar trucks; which are exported from Peterlee to the US and across the globe.
Chief executive Phil Handley, who began his career as an apprentice, said: "Apprenticeships are critical to the sustainability of all of our futures.
"Investing in apprentices is a key part of our recruitment and development strategy and an ongoing focus for us. It's a cycle that never ends."
Anthony Knowles, Head of Employer Accounts for the National Apprenticeship Service, added: "The support of local businesses is vital if we are going to grow the skills base of our regional economy.
"It will provide some much needed new opportunities for young people and by agreeing to take on an apprentice, employers are not only supporting their local community but they are also making a good business decision to grow their own talented workforce."
More information about the 100 Days Apprenticeship Challenge can be found on the campaign website at www.apprenticeshipchallenge.co.uk
● Pictured (above) is Ben Creke, 18, Level 3 Auto Electrician apprentice; Vickie English, 22, Level 3 Auto Electrician apprentice