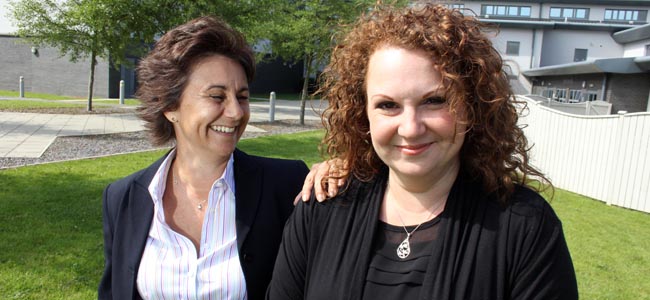 By Martin Walker
Companies on Aycliffe Business Park are being invited to 'make their mark' with an inaugural business awards event.
The Make Your Mark competition is being organised by the Aycliffe Business Park Community Steering Group, with the support of Business Durham, and is designed to celebrate success.
Aycliffe, home to Hitachi Rail Europe's £82m train-building facility, is already home to around 250 companies and 9,000 employees, with a good mix of engineering and manufacturing firms such as Gestamp Tallent, 3M, Ebac and PWS complemented by a range of service industry SMEs.
The ABPC Steering Group says it wants businesses of all shapes and sizes to enter the 11 different categories, which are open to all businesses from every sector, and firms can both nominate others and individuals as well as themselves.
Click here to see more details about the categories and to download application forms
Kerina Clark, Chair of the Steering Group, said: "The idea is that we get as many of the businesses on the park together to celebrate our successes collectively.
"We can incorporate some of the social requirements of the community while celebrating our achievements at the same time, to hopefully create an event that can be replicated every year."
Application forms will be made available online and in hard copy formats, and categories will include: Apprenticeships, Apprentice of the Year, Employer of the Year, Engineering and Manufacturing, Heart of the Community, Innovation, Best Newcomer, Service Business of the Year and Small Business of the Year, as well as the top gong, Company of the Year.
The judging panel will consist of the ABPC Steering Group, although members will not judge categories which either include their own company or firms associated with them.
Then guests will gather for a three-course evening meal and celebration at the Xcel Centre on Thursday 18th September, which will start with a drinks reception and complimentary pictures so everyone gets a memento of the night.
A high-profile speaker will entertain the room before the winners are revealed, while a fully-licensed bar will provide refreshments on tap.
The glittering event will be sponsored to ensure it's affordable for all businesses, but any profits that are made will be donated to a local charity.
Rachel Townsend Green, a member of the Steering Group, said: "We want to add to the sense of community that we've already created on the park, as well as raise awareness of the some of the businesses on the park that we don't already know about.
"There are still a lot of businesses that we don't yet know about, some of which will, I'm sure, have achieved some great things over the last year or two.
"It's a very British thing not to blow your own trumpet, but we feel it's important to allow businesses to do exactly that in this instance, we're celebrating successes of all kinds.
"SMEs are a fundamental part of the business park and will be as integral a part of this event, as national companies on the business park."
Click here for more details about the categories and to download application forms. Alternatively, hard copy application forms will be available from the Xcel Centre and Newton Press offices on St Cuthbert's Way.