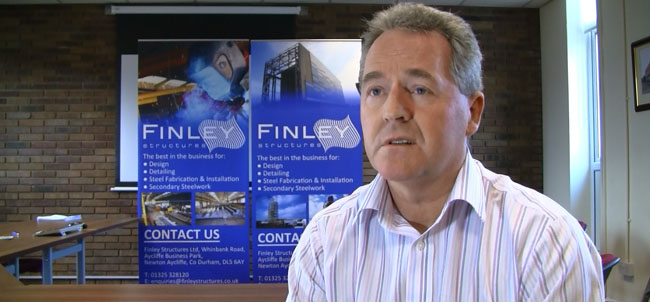 By Martin Walker
Finley Structures boss John Finley says Aycliffe Business Park now looks "fantastic" after some great work done over the last 12 months.
The Aycliffe Business Park Community (ABPC) celebrates its first birthday with a special event at the Xcel Centre this Friday (from 8am) – click here to register.
Mr Finley, who sits on the ABPC steering group, was tasked with trying to get areas of the park spruced up as land owners bickered over who should do it.
He met with Gordon Wooding from Durham Tees Valley Probation Trust early last year about how the organisation might be able to help.
As a result, the unpaid unit of the Trust has been carrying out work in various areas of the park – mowing grass that had been left for a number of years and cutting back overgrown trees, all at no cost to tenants.
The work is a fine example of some of the progress the ABPC steering group has made in the last year.
Talking on Video ahead of this Friday's event, Mr Finley said: "You've just got to drive down Whinbank Road to see the difference.
"The Probation Service has done a fantastic job, and I'd like to thank them for it.
"There are areas of the business park where the grass has been two foot long. It's been cut down, and I think it's looking fantastic."
Mr Finley, whose firm was recently awarded a 2,000-tonne steel contract to build Hitachi Rail Europe's train-building facility in Newton Aycliffe, says the future of the park is extremely bright.
"Go back 10 years, it was run-down," he said.
"A lot of the buildings were derelict. Over the last two to three years those buildings have been taken, they're getting revamped, and I think the business park has a fantastic future."
Click here to see Mr Finley's interview