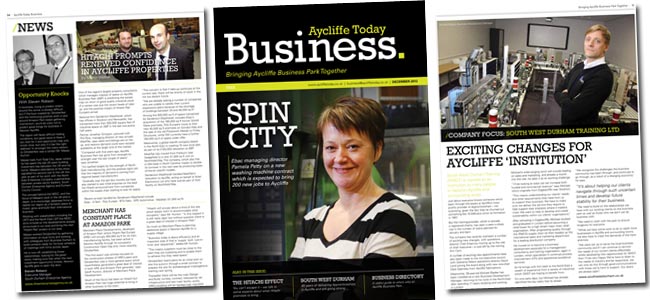 An exciting new FREE business magazine for Newton Aycliffe is now available!
Aycliffe Today Business, a specific B2B publication produced by Mantis Media in association with Splash Print Management, will start going out across Aycliffe Business Park (ABP) from Thursday.
Every business on ABP will receive a copy in the post, with the high-quality, 16-page magazine being mailed direct to 300 businesses on Friday, landing on doormats on Saturday and Monday.
But those who can't wait can get their hands on copies from Thursday lunchtime, with hundreds of copies available.
Email [email protected] with your contact details and we'll get a copy to you before the weekend!
The first issue includes a guest foreword by Sedgefield MP Phil Wilson, as well as guest columns penned by Carlton & Co. Director Craig Peterson and South Durham Enterprise Agency Executive Manager Steven Robson.
There are also features with Merchant Place Developments and property consultants Sanderson Weatherall about the arrival of Hitachi and a feature interview with Ebac managing director Pamela Petty about their project to bring washing machine manufacturing back to the UK.
There's also a handy three-page 'Business Directory' which lists around 300 businesses on ABP, along with their contact details.
● To advertise in the January issue of Aycliffe Today Business, due out before Christmas, call Martin Walker on 07826 525907, or email [email protected]