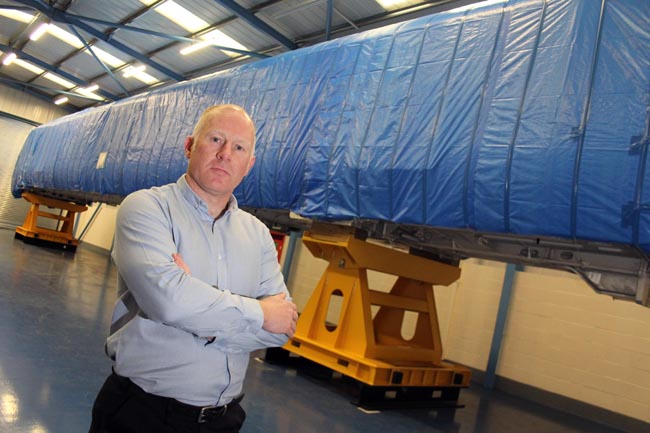 By Martin Walker
Business leaders from Newton Aycliffe were treated to a rare insight this week – a sneak peek of Hitachi's very first Aycliffe train carriage.
Hitachi's first prototype train arrived at the Port of Tyne in January after making a 52-day trip to the UK covering 12,880 nautical miles.
The 26m-long carriage arrived on Aycliffe Business Park a few days later and is currently in place at training-provider South West Durham's premises on Durham Way South.
The prototype will be a guinea pig for Hitachi engineers and Apprentices, getting ready for when production of the first trains begins in early 2016.
Hitachi maintenance and facilities manager, Chris Evans (pictured above), gave guests a little insight into the train carriage during Aycliffe Business Park Community's latest news and networking event this week.
See our pictures below
Click here to see our short video
Ebac managing director Pamela Petty, vice chair of the ABPC steering group, told Aycliffe Today: "This is the first train which Hitachi will use to start their training, which is amazing.
"We're one of the first people to see it, so it's a great score for the Aycliffe Business Park Community group."
The carriage, which will become Hitachi plant's training unit, was built at Hitachi's factory in Kasado, Japan and was transported from Kobe Japan to reach the Port of Tyne's Höegh Northern Terminal before heading for Aycliffe.
Hitachi's £82m train-making factory in Aycliffe is expected to be completed this Autumn, with production due to start next year.