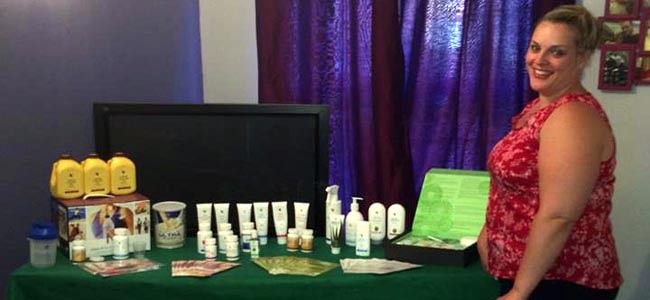 A Newton Aycliffe mum has even more reason to make her new business a success after her husband was recently diagnosed with Leukaemia, leaving her as the sole earner in the household.
Becky McGeary, 31, launched her business Forever Living Aycliffe – a multi-level franchise of the health, wellness and beauty company Forever Living – in August last year, hoping to earn extra money to augment her wage as a Primary School Teacher, and to meet new people in Aycliffe, where she has lived for just three years.
However, things took a dramatic twist in November when her husband Paul was diagnosed with Leukaemia, meaning he would be off work for considerable time, leaving Becky to fend for the family, which includes 14 month old daughter Niamh.
As a result, Becky has had to drop her working hours to part-time, but luckily her business has grown in the past few months, meaning this decision has been cushioned by the fact that Forever Living Aycliffe is now providing a full time income to support the family.
"I started off just wanting to retail the products," said Becky, "I don't know many people in Aycliffe and I just wanted to meet new people, make a few quid and mainly just occupy my mind once the baby was in bed for the evening.
"A lot of my networking is done via my phone, a Facebook page and word of mouth. I host product parties once or twice a month and provide seasonal offers at Christmas and Valentines Day etc… I currently have a customer base of around 40, but this started with just a few friends and family and rapidly expanded.
"I was happy enough retailing at first as I was working full time, and was making around £200 commission and bonus per month from Forever Living, then the opportunity arose to manage a team, so I recruited two friends who have also successfully launched their own Forever Living businesses. One of those has since recruited a friend, and this is how the multi-level side of things works.
"The earning potential is uncapped and with circumstances now the way they are with Paul and his recovery, I have stepped up both the management side, and the retail side of my business and things are thriving, so much so that I can work at school for two days, and spend the rest of the week dedicating time to my family and my Forever Living enterprise.
"I have recently been earning between £500 and £1000 per month, without really getting off my sofa. I'm also hoping to join the company Car Scheme this year and take advantage of their free holiday incentives."
If you are interested in any of the products which Forever Living Aycliffe range or in becoming a recruit, contact Becky on 07810 423201, or follow her Forever Living Aycliffe retail page on Facebook.
Alternatively check out her online shop by clicking here.