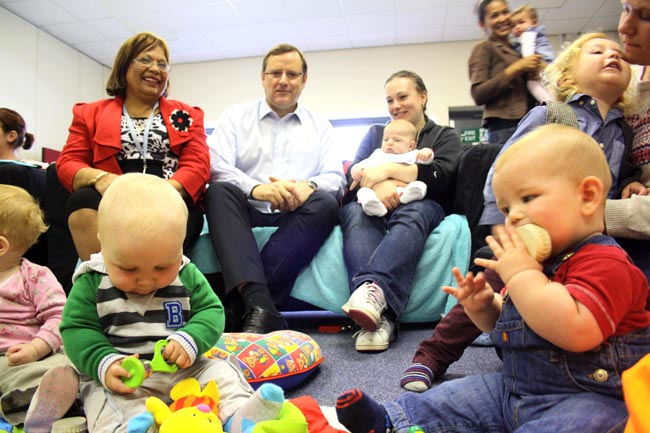 By Martin Walker
New mums and mums-to-be can enjoy Britain's newest Baby Café in Newton Aycliffe.
Baby Café, established in 2000, is a national network of breastfeeding drop-ins, combining breastfeeding information with a relaxed, informal environment where mums can chat and learn about breastfeeding from skilled practitioners and each other.
Following the success of the Baby Cafes at Seaham, Howletch and Fishburn Children's Centres, Newton Aycliffe Baby Café was launched by Sedgefield MP Phil Wilson.
The Aycliffe sessions are held between 1.30pm and 3pm every Thursday at Newton Aycliffe Youth Centre (opposite Tesco's) Burn Lane, Newton Aycliffe DL5 4HT.
Mr Wilson, who has two grown up sons, said: "The work of national network of breastfeeding is commendable, they've already opened centres like this throughout the country and this is the newest.
"I think it's great that young mums, and expecting mums, can come and spend some time with other mums in a nice, relaxing atmosphere."
County Durham and Darlington Foundation Trust staff have been working closely with the NCT to provide a brand new Baby Cafe session
This initiative has been funded by Public Health County Durham and Darlington and marks the next stage of an ambitious project across County Durham and Darlington County Durham and Darlington.
Health visitor Pat Poinen said: "We are thrilled to launch the new Baby Cafe in Newton Aycliffe.
"We recognize that breastfeeding isn't always easy, being part of the Baby Cafe initiative means that we will be able to provide an even better level of service and support to breastfeeding mothers than ever before."
Baby Café is a national network of breastfeeding drop-ins, combining the expertise of skilled practitioners and mothers to offer invaluable support to parents at all stages of breastfeeding in a professional but non-clinical, café-style environment.
Baby Café has over 100 drop-ins around the UK, supporting up to 10,000 mums a year.
They are open to all those interested in any aspect of breastfeeding – mothers, partners, supporters – and take place once a week in children's centres or community venues.
Baby Café became a charitable trust in 2005 and then in 2010 Baby Café merged with NCT, the UK's largest charity for parents, to help more mums who want to breastfeed.
To find out about other UK Baby Cafés, visit www.thebabycafe.org