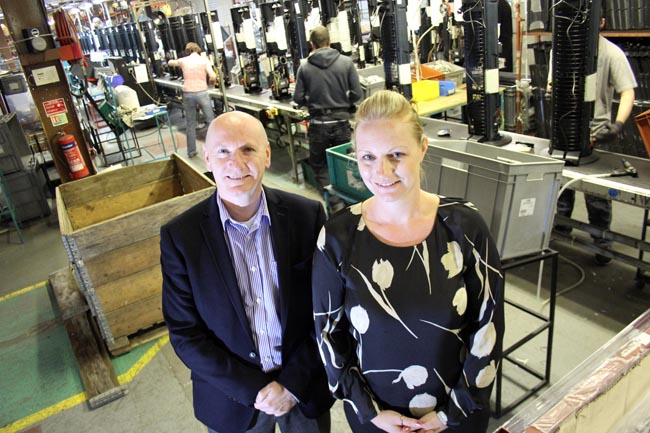 An ambitious entrepreneur is hoping to treble her turnover by inter-trading with one of Aycliffe Business Park's biggest companies.
Lisa Fleming is the regional director for the national company Water Cooler World, with her partner Wayne Fleming heading up a North-East franchise they bought in August 2012.
The company, based on Aycliffe Business Park, now look after more than 50 businesses in the North East, from Northallerton to Newcastle, supplying water and hot drinks through bottles and machines.
The majority of her water coolers are manufactured by fellow Aycliffe firm Ebac, who produce more than 100,000 units a year which go across the world.
Lisa has plans to double her staff for the fledgling business in the coming months and has set an ambitious target of increasing turnover by a whopping 200% to £250,000 by the end of September this year.
"This is a big year for the company and we have ambitious plans," said Lisa, in an interview with our latest Aycliffe Today Business magazine.
"Most of our water coolers are Ebac-produced and it's a great demonstration of how local firms are working together and inter-trading on the business park.
"We're already supplying water coolers and coffee machines to some firms on the park – Finley Structures being one of them – but the majority of our clients are outside the area, as far North as Newcastle and right down to Northallerton, so the plan this year is to get more local firms on the books."
Ebac are the UK's market-leader in producing dehumidifiers and water coolers and have started producing chest freezers at their new factory on the former Radius Systems site, while they hope to roll out their new washing machine range later this year.
Business development director Tony Hird, pictured above with Lisa, said: "We produce over 100,000 units a year across our entire product range and we increased our cooler sales by 35% in 2013.
"We're the market leader for water coolers in Europe with around 30% market share.
"We've also launched several new models, including Fleet Aquasafe, and a Carbonated cooler range. We manufacture OEM coolers for Nestle, Elis (France) and Drink Cup (Italy)."
Water Cooler World can supply businesses with a water cooler for less than the cost of buying a small plastic bottle of water every day, with rates starting from £17 a month for one cooler, and can also supply businesses with hot drinks machines.
To find out more about Water Cooler World and their services, call Shanah Hanley on 01325 952777.
Click here to see the online version of our January-February issue of Aycliffe Today Business.