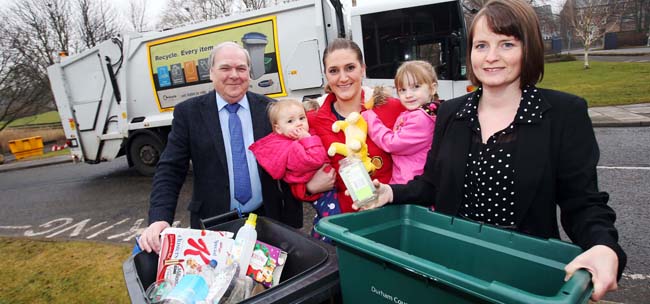 Almost 1,600 extra lorry-loads of glass, paper, plastics and other materials have been collected for recycling in County Durham since the introduction of a new system.
Durham County Council switched to alternate weekly collections of waste and recycling almost a year ago in April 2012 – and has seen a significant increase in recycling levels following the move.
Between April and December 2012, residents across the county recycled 7,988 tonnes more than during the same period the previous year – an increase of 31 per cent.
Cllr Brian Stephens, Durham County Council's Cabinet member for neighbourhoods and local partnerships, said: "We're very pleased with the increase in our kerbside recycling rates since the introduction of alternate weekly collections and would like to thank residents for helping us achieve this great result.
"Now that people have had time to get used to the new system, we're hoping that they will recycle more and boost our recycling totals even further."
The alternate weekly collection system, which had already been running in the former Derwentside area for a number of years, was initially introduced in the north of the county before being rolled out across the south, east and central areas during May and June.
As part of the changeover, almost 190,000 homes received new recycling bins for storing paper, card, plastics, tins, cans, aerosols and cartons. Glass bottles and jars are still placed in the recycling box for collection.
Among those helping to boost recycling levels is Kirsty Davidson, from Brandon, who is the January winner of the North East Recycling Rewards scheme.
Any County Durham resident can take part in the monthly prize draw which runs until the end of June.
To be in with a chance of winning, residents need to apply for a unique sticker pack online at www.recycle-more.co.uk/nerewards or call 0844 844 4546 and then apply the personalised stickers to empty glass jars, aerosol cans and food and drinks cartons which are placed in the recycling for collection.
The scheme aims to reward environmentally conscious residents and raise awareness of the opportunity to recycle glass jars, aerosols and food and drinks cartons.
For a guide to what can be recycled, visit www.durham.gov.uk/whatgoeswhere