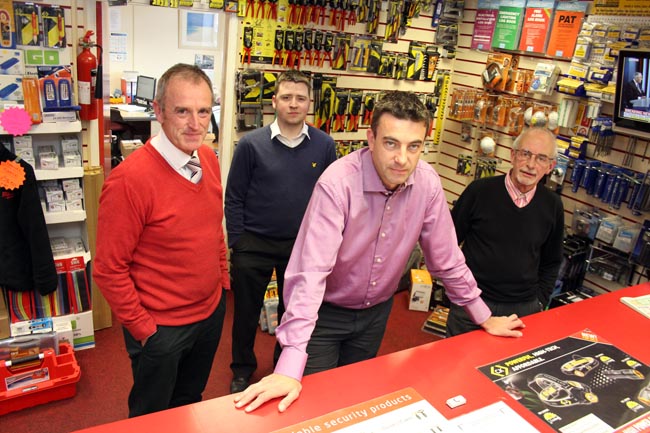 By Martin Walker
Another one of Aycliffe Business Park's "hidden treasures" enjoyed a 30% jump in turnover last year and is looking to take on more business.
Upex Electrical Distributors (UED) is the only specialist electrical and plumbing wholesaler in Newton Aycliffe.
It caters for a range of needs, from the man on the street up to large industrial firms, and has been working on large-scale projects for the likes of 3M and Gestamp Tallent recently.
UED is part of the Upex Group – a collection of eight companies owned by local entrepreneur John Upex – and already works with dozens of firms on Aycliffe Business Park and hundreds of others in between Jarrow and Northallerton.
The firm enjoyed a big jump in turnover during 2013, up more than 30% on 2012 – the firm's best-ever performance in its 26-year history – while the firm's growth has trebled in the last seven years.
Managing Director Gary Monk re-joined the company in 2007 after buying a 25% stake.
He says UED, based at Aerial House, next to the Great Aycliffe Council offices on School Aycliffe Lane, is now well placed to deliver services to more firms on the park.
"We've got a wealth of experience between us after all working in the industry for a lot of years," says Gary, from Heighington.
"We're in a very competitive market, especially with companies who do what we do online only, but our biggest strength is our locality and service.
"We're on the doorstep for Aycliffe firms and we offer a family-friendly, face-to-face service.
"Our cash business over the trade counter is very strong but we'd like to do more with some of the larger firms on Aycliffe Business Park and it would be nice to have the opportunity to talk to them."
UED has recently become a member of independent wholesalers AWEBB – a "progressive, ambitious and forward-thinking purchasing consortium" – which gives the Aycliffe outfit bigger buying power and enables them to compete with its online competitors.
"There are lots of wholesalers like us that are purely internet based," said Gary.
"But we're competitive with all of them and we cater for the whole spectrum, from the cash sale customer who comes in for a plug to heavy industry."
UED has five full-time staff, including Steve Whitham, Barry Harland and David Land in the sales team and van driver Jeff Hunter and part-time sales rep Tom College.
The company was set up in 1984 and has grown rapidly to become the only major electrical retailer and wholesaler in the Newton Aycliffe area.
"Our good reputation is a result of dedication to customer satisfaction," added Gary.
"We're competitive on both price and service and being independent allows us to remain flexible.
"We're not committed to specific suppliers, either, which means we can source goods on the price, quality and delivery to tailor our clients' needs."
UED carries an extensive range of stock in-house, which is supported by direct access to local and national supplies, boasting a same-day or 24-hour delivery.
Call in to UED at Aerial House on School Aycliffe Lane or give them a call on 01325 315315.
● Above: The Upex Electrical team (left to right) Steve Whitham, David Land, Gary Monk and Barry Harland.