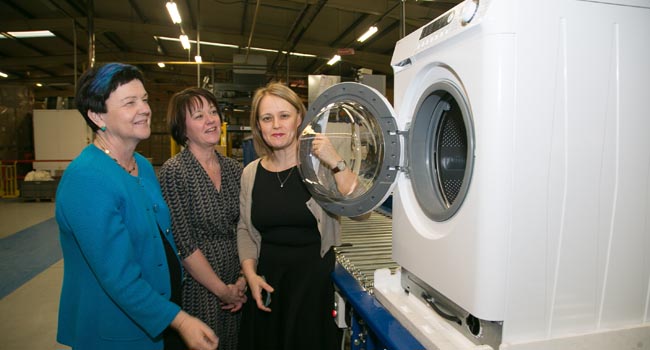 Business Minister in the House of Lords Baroness Neville-Rolfe visited Newton Aycliffe appliances manufacturer Ebac to learn how a Regional Growth Fund grant is supporting its new production line, which will deliver the only UK made washing machines on the market.
Click here to see a short video about this visit in our Video Vault
The line is being developed with support from a £1m Regional Growth Fund (RGF) grant from the Department for Business, Innovation & Skills and a £6m injection from the company's own funds.
Work to establish the production line follows five years of planning and ongoing research and development, which includes the views of thousands of consumers.
The company aims to double its 200-strong workforce as it expands its product range, having already started producing Norfrost Chest Freezers at its premises in Newton Aycliffe, County Durham.
Baroness Neville-Rolfe was given an update on the development of washing machine production by Ebac managing director Pamela Petty and met members of the team working on the exciting venture.
Mrs Petty said: "The RGF process has worked well for Ebac, enabling the company to establish the manufacture of washing machines.
"Around three million washing machines are bought in the UK each year, all of them imported.
"We have spent years exploring not only the feasibility of manufacturing washing machines, but also the processes involved and we are very confident of having a high quality, competitive product on the market in 2015.
"The money from the Regional Growth made all of this possible and will undoubtedly reap returns for Ebac, the North East and the country as a whole."
Speaking on the company's video Baroness Neville-Rolfe said: "I am delighted that the Government has been able to help with a grant towards the cost of this project."