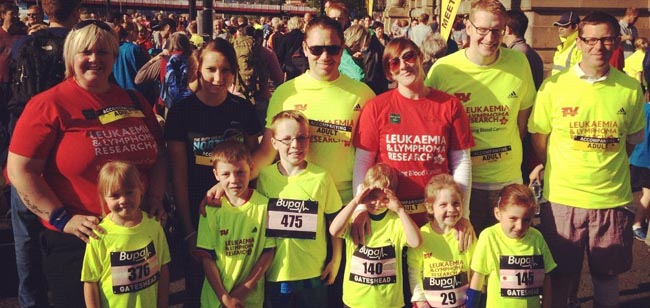 A whole bunch of runners from Newton Aycliffe's Banana Army pounded the pavements of Tyneside to raise vital funds for Leukaemia & Lymphoma Research.
Sporting their trademark yellow shirts, the families ran first on Saturday 15th September. Grace Everson, Skye Johnson, Isaac, Jacob and Dominic Hume, Ava Wilkes and Harry & Tom Crosby were all cheered over the start line by Paralympic Gold medallist, swimmer Josef Craig.
Click here to see our Picture Gallery
They ran their little socks off around the one mile course to receive their well-deserved medals at the end. Ellie Drake, 14, and Molly Crosby, 10, joined the 4km junior race, achieving exceptional times.
On Sunday the adults, Jamie Everson, Daniel Armitage, Vince Armitage, Jaime Hume, Lisa Hill, Jules Baxter, Simon Bowker, Eleanor Wilkes and Karen Everson took to the streets.
Starting in Newcastle they were spurred on by the support and cheers of amazing crowds along the route.
Donations can be made by texting BKWA76 £5 to 70070 or donate online to www.justgiving.com/bananaarmy2012
The groups next event is the Mardi Gras Masquerade Ball sponsored by K&B Creation, on 28th September at Hardwick Hall. Sponsorship opportunities are still available, visit www.bananaarmy2011.co.uk
Click here to see their Video Featrue in our Video Vault