A senior figure from the Bank of England said he was "heartened" by a recent visit to Aycliffe Business Park.
Andy Haldane, chief economist and the executive director of monetary analysis and statistics at the Bank of England, chatted to company representatives during the visit, which was organised by Aycliffe Business Park Community board member Chris Hyde, while he also visited the Hitachi and Husqvarna.
Bank of England officials Mauricio Arnellini and Andrew Hebden also took part in a round-table discussion at the Xcel Centre.
Firms from automotive, manufacturing, construction and professional services sectors were represented, and subjects covered interest rates, Brexit, the current investment plans of businesses and wage settlements.
"These trips around the country always provide incredibly valuable insights to inform our understanding of what's happening across the economy," Haldane told Aycliffe Today.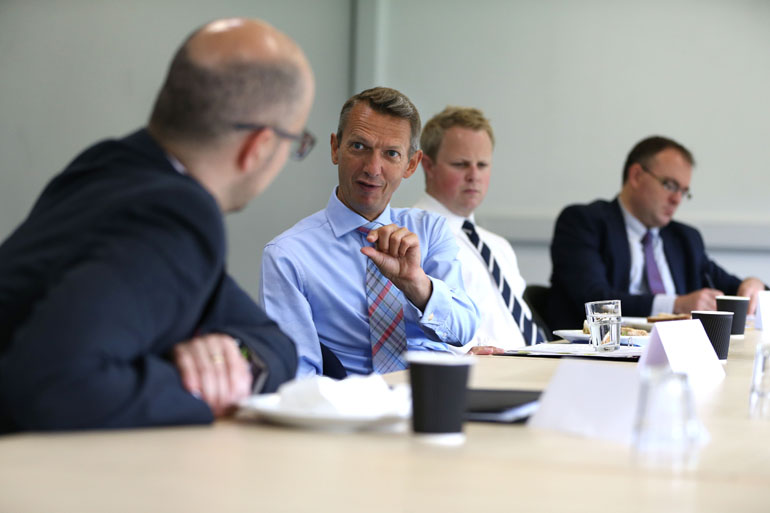 "The visit to Aycliffe Business Park, where we held a really interesting roundtable with a range of businesses across several sectors, covered many of the key topics that we are focused on at present, from the impact of Brexit on investment decisions to the pressures in the labour market and how these are feeding through to pay settlements.
"We supplemented this valuable discussion with two excellent visits to large manufacturing plants on the park, at Hitachi and Husqvarna, where we saw some genuinely world-leading innovation being put into practice at scale.
"It was heartening, informative and enjoyable and I look forward to hearing more about how these facilities develop further over the coming years with the exciting plans that both have in place."
As well as Chris Hyde, the high-level discussion included Sarah Slaven from Business Durham, Stephen Carter from Gestamp Tallent, Graham Currie from Ebac, Neil O'Connor from Fleet Recruitment, Rod Dales from Commercial Expert and Ben Healey from Greystone Legal.
Slaven said: "It was a good example of how Aycliffe Business Park Community provides a voice for businesses on the park to influence policy makers and raise the profile of the fantastic businesses located here."
Ebac group financial director Graham Currie added: "I found the event very informative, with participants freely sharing information around their current challenges and concerns within the market place, and I thought Andy came across as very approachable, with a genuine interest in our opinions."