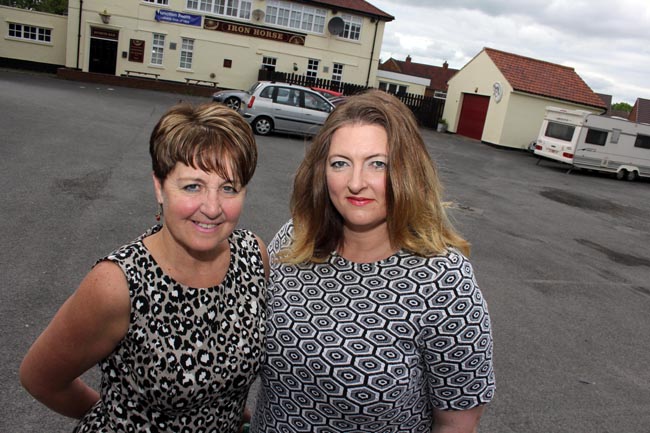 Newtonian Andrea Harrison is fundraising for a charity close to her heart. Here, she tells Chloe McKenna why her stillborn baby tragedy inspired her to help others…
May 10, 2004, is a date which will stay with Newtonian Andrea Harrison forever.
Andrea (pictured above, right) was 41 weeks pregnant when she went into early on-set labour and a midwife visited her at home.
She was told to go to Bishop Auckland hospital "to get checked out". On arrival, she was put on a fetal monitor and was monitored for 90 minutes.
"I was monitored for longer than I should have been; I should have only been monitored for 45 minutes, but they couldn't make their mind up whether there was something going on," Andrea recalls.
After being monitored it was decided by the one member of staff on duty that the baby's fetal heart rate wasn't normal and that Andrea should be induced.
"At no time was I ever given any cause for concern, I was simply told 'baby wasn't happy in there, we're going to take her out," Andrea explains.
Andrea was then told to go to Darlington hospital with her husband at the time and was given her notes to take to the labour ward.
She recalls: "We hit traffic, and a diversion, so a journey that would normally take about half an hour took us nearly an hour, and half way there I started to experience excruciating pains – I actually thought I was about to give birth in the car."
When Andrea finally arrived at Darlington hospital, the nurses weren't aware that she was coming. Andrea was put into a labour room where doctors took over and started to prep for an emergency Caesarean section.
"I then became more aware that something wasn't right," she remembers.
Andrea was taken into the delivery room. "At this point I was just really, really scared," she said.
"The point I knew something was wrong, was when I heard a doctor say: 'the placenta is being delivered', because I knew that this wouldn't happen unless the baby had been born – I hadn't heard my baby cry yet."
Baby Olivia had been born without a heartbeat, nurses carried out CPR on the resuscitation table for 17 minutes.
"At that point everything just became really frightening," saus Andrea. "There was no life in her, no breathing, it was the longest 17 minutes of my life."
Unfortunately there was nothing that the nurses could do, Olivia was stillborn and there was no way of bringing her back.
"I still think to this day that these things shouldn't happen, and why did it happen to me?" she asks.
"I didn't just feel true anguish and pain, I saw it in my family and through my husband and children – it was just horrendous, it's torn my family apart."
Andrea fought a legal case for five years in the memory of her daughter; the case ruled that the death of Olivia was down to pure negligence on behalf of the medical team involved.
Despite the anguish and pain caused by this horrific tragedy, Andrea has been inspired to raise money for the charity SANDS (stillbirth and neonatal death).
And with this year marking the tenth anniversary of Olivia's death, she has planned a fundraising day at The Iron Horse on Saturday 19th July, with the help of the pub's landlady Mary Appleby, when they hope to raise lots of money for SANDS.
The day will consist of live music, face-painting, bouncy castles and general family fun activities.
'Celestine' is the headlining act for the night, a young band consisting of Elliot Fenwick, Joe Teasdale, Jack walker and Niall Fenwick who recently performed at Aycliffe's Party in the Park.
Andrea is still in need of more activity stalls/bands for her family fun day as well as raffle prizes, so if you'd like to get involved see her details below to get in touch.
If you're up for getting involved for this fantastic cause and think you can raise £100 or more, you can contact Andrea Harrison on: 07773275202 or email her at: [email protected]