A doting dad is taking on the iconic London Marathon to raise funds for Newcastle-based charity, The Tiny Lives Trust.
Martin Butterworth will be tackling the notorious 26.2-mile race on Sunday 28th April 2019, to raise funds for Tiny Lives, after his daughter Esther Rose was born three months prematurely.
The North Yorkshire born dad – who is a Subject Lead PE Teacher at Greenfield Community College in Newton Aycliffe – was inspired to complete the Marathon after seeing the struggles that Esther Rose went through when she arrived in the world too early, at Newcastle's RVI hospital.
Esther Rose received life-saving care on the hospital's Neonatal Unit, which is supported by Tiny Lives.
Martin said: "The London Marathon has always been an ambition of mine. I entered the ballot back in April of last year and little did I know the significance of what was about to follow.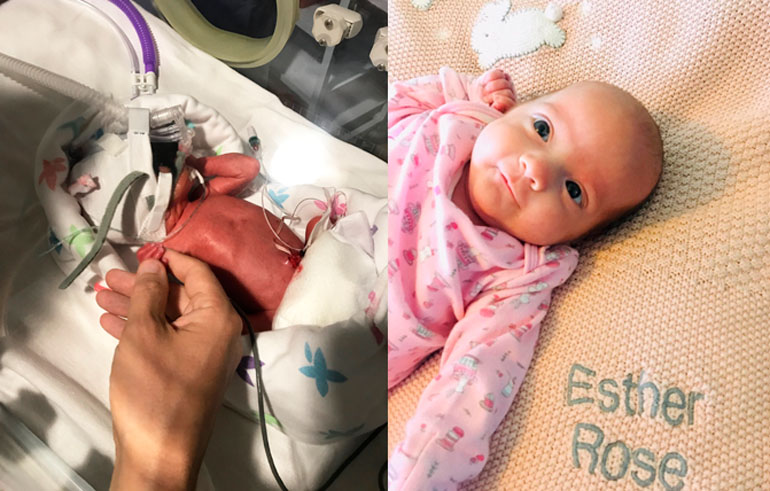 "The arrival of Esther Rose in September and being successful in the ballot in October – which I think was fate – has only encouraged me to fulfil this challenge so I can give something back to all those who provided such amazing care and support over this tough time."
Martin and his wife Ellie also have another daughter, Evelyn, and had to juggle their lives considerably to fit around Esther Rose's dramatic arrival; a struggle that parents often face when they are admitted to the Neonatal Unit.
The Tiny Lives Trust aims to help make the Neonatal journey as comfortable as possible for both babies and parents at the RVI. The charity offers emotional support and financial assistance to parents, as well as supporting the Neonatal Unit with equipment, developmental aids and funds for staff training.
They also fund several staff posts on the Unit, including a Neonatal Physiotherapist and a Psychologist, to support parental mental health.
Martin added: "Tiny Lives, alongside the Neonatal Unit at the RVI in Newcastle, offered outstanding care to our little newborn.
"I believe this fantastic care and support is the fundamental reason for Esther Rose having such an amazing start to life.
"It allowed her to go from strength-to-strength at the beginning of her journey."
Louise Carroll, Community and Events Fundraiser at The Tiny Lives Trust, said: "We can't thank Martin enough for bravely taking on the huge challenge of the London Marathon to raise funds for Tiny Lives! We couldn't do what we do without our amazing fundraisers, many of whom are parents and former residents of the Neonatal Unit, just like Martin."
As well as Tiny Lives, Martin is also raising funds for The Sick Children's Trust and BLISS. Martin has set up a Virgin Giving page for those who wish to offer donations.