Two Newton Aycliffe women have spoken out about a nasty assault in a bid to catch their attacker.
Diane Brown, 53, of Biscop Crescent, was left unconscious and with broken front teeth following an unprovoked attack on her and friend, Debbie Scanlon, 53, who suffered facial injuries.
The incident happened at Silverdale Place in the town at 10.50pm on Friday, March 23.
Diane, a grandmother-of-five (pictured above, left, with Debbie, right, after the attack), said: "I had been at a friend's house playing cards when we went outside to go for a walk.
"A man passed us and said 'hello.' The next thing I know, I was on the deck with my teeth in my hand. I don't remember much after that."
Diane was taken to Darlington Memorial Hospital before being transferred to James Cook University Hospital in Middlesbrough for further treatment.
She said: "It has left me gobsmacked, hurt and in a lot of pain. My husband died last year so I have been coping with that and now this. I have had a lot of family support."
Debbie's partner, Samantha Pearson-Scanlon, 31, of Silverdale Place, said: "It is a horrible thing to do to two women. We just hope the man responsible is caught."
PC Andy Denham of South Durham CID said: "The suspect was walking from the direction of Williamfield Way when he passed the two females.
"He spoke to them briefly before attacking the pair, resulting in them both suffering nasty injuries. The man left in the direction of the subway towards Horndale.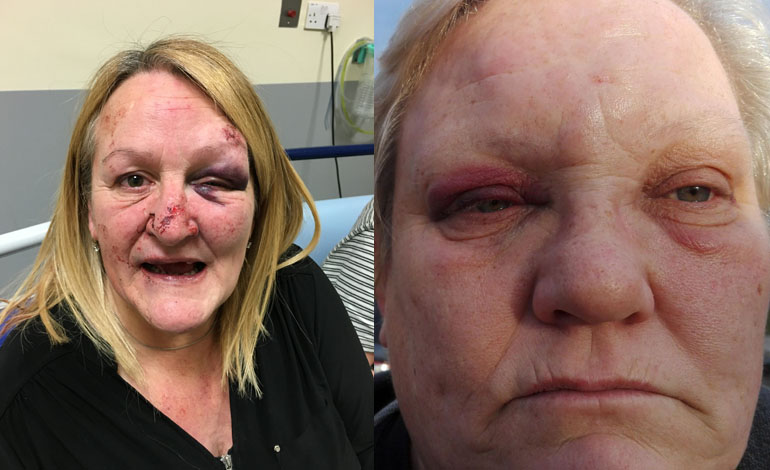 "This has had a profound effect on the victims who are understandably upset and shaken from their ordeal.
"We are appealing for information that will identify the man involved. Do you know him? Do you have CCTV in the area that shows a man walking alone before and after 10.50pm in the areas of Silverdale Place, Williamfield Way and Horndale? We want justice to be served."
A 29-year-old man was arrested on suspicion of assault on the night of the incident but has since been released with no further action.
Anyone with information should contact PC 2159 Andy Denham on the non-emergency 101 number.