With the third phase of the Newton Aycliffe town centre redevelopment close to be completed, Aycliffe Today reporter Ashleigh Jones asked a number of shoppers what they think of the town centre to date…
With the town centre developments continuing over the last two years, the award-winning, multi-million pound plan is beginning to take shape.
The plan won a Gold Award at the British Council of Shopping Centres annual awards ceremony at the end of last year, leaving residents with high hopes for a brighter, better town centre.
After the removal of the large ramp through the centre of the town, the library buildings and more recently Churchill House and the connecting row of shops, the layout of the centre is changing dramatically giving it a much more open plan feel.
With a number of new successful retailers moving into the town including Aldi and Wilkos, centre management are encouraging other companies to take lease in the town or for existing businesses to consider expanding into new premises.
Owners of the centre, The Freshwater Group, hope to create a space that local residents can be proud of, where they are happy to shop and spend their time here.
The general mood within the town suggesting that it has improved but could still be better.
Local MP Phil Wilson's constituency office is currently in the town centre amongst a number of businesses that have been here for decades, including Stephen Russell hairdressers and Elachi Indian restaurant.
Currently there are over 20 units in the town that are empty and out of use, with Poundstretcher being the next to leave after being left with abandoned shops above them creating problems within their building.
Jacqui Megran: "It's good that they are starting to renovate it and it's definitely better than what it was at least, but will they look after it? Hopefully it can stay in a nice condition."
Mandy Wise said: "It's looking really good, but hopefully it will actually be beneficial to the people that work on the town and be better for jobs and bring in some money here."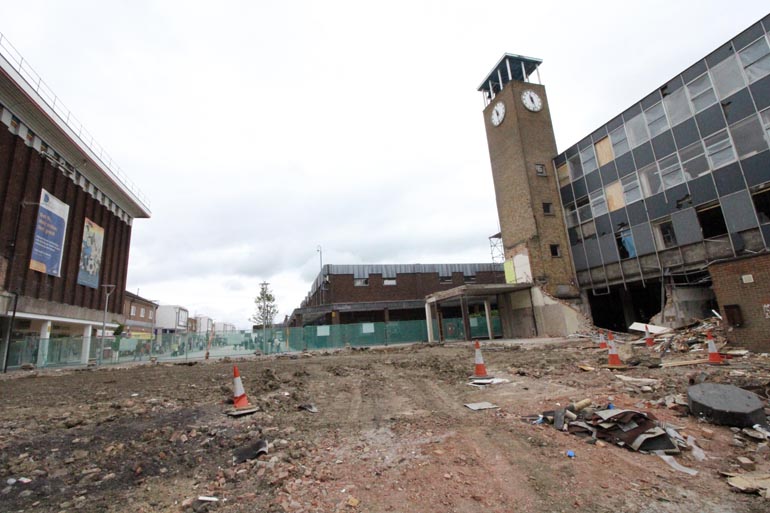 Beverly Taylor added: "I think it's all going alright really, it's been a bit of a mess when we have to work amongst it but it looks better."
Neil Snowball said: "It's going really well, it's coming on really nice, I think it will be good for the town if it brings people in to spend a bit. I know the rent is a problem with some of the shops that's quite high."
Mary Judge said: "I think we need some of the larger shops in, or maybe some more independent shops but we just seem to be full of banks and charity shops.
"I don't think the new part is bringing anything to it and I think that was really what we needed, they are developing it but they haven't brought anything new into it.
"There are too many shops empty, there's no big names here, you've got to go out of town for everything. Maybe once the work at the top is finished and once the library's in it will be better."
Robert Eldringham was less complimentary, saying: "I think it's rubbish, absolutely terrible.
"It's causing loads of problems, people won't come here because there are so few shops. Twenty one empty and now I hear the big one down the bottom is in trouble too and they're going to leave."
Irene Hardy added: "There's nothing here now compared to what there used to be, nothing at all.
"I don't think it's causing a problem but I am curious to see what will be here when they finish."
What do you think of our town centre? Give us your views either by email to [email protected] or on our Facebook page.