An award-winning creative agency is hoping to "break the ice" with local companies after expanding to new premises on Aycliffe Business Park.
Lemon Top Creative has moved into the Incubation Centre on Durham Way South after several years at Coatham Hall in Coatham Mundeville, just on the other side of the A1 (M).
The agency works with businesses all over the world in a variety of sectors, but is bestknown for its works in the food and beverage industry – and particular brewers.
To celebrate the firm's relocation to Aycliffe, Lemon Top has created its very own beer, aptly named Ice Breaker Lemon Top Ale, to serve as an introductory ice breaking gift to prospective customers and neighbours.
Bosses say it's an exciting time for the company, which was named after the famous Redcar ice cream when it was formed with a team of four in March 2012.
"We've watched the development of Aycliffe Business Park over recent years, on the periphery at Coatham Mundeville, and we've always felt that we've wanted to be a part of the community," says director Steve Gill.
"To do that we recognised that we've had to relocate here, so we can become part of the Aycliffe family, and expose us to a whole new audience."
Lemon Top boasts more than 80 years' combined creative experience. Its team is made up of directors Gill, Terry Kneeshaw and Andy Mogg, creative director Arron Stoutt and design director Owen Smith.
And the firm's latest addition to the board is Mat Hall – head of "mad ideas", no less.
"We're constantly trying to come up with our own ideas and to be different," says Kneeshaw.
"We have the ability to create stuff from scratch. We don't use generic or stock images – we create unique illustrations for our clients. That isn't unique, but we're at the top of our game when it comes to creative brands, concepts and strategies."
Since its formation seven years ago, Lemon Top has worked with around 200 breweries, from household names to small local firms including the likes of Molson Coors and Boss Brewing.
The agency was awarded Supplier Associate of the Year at the 2018 SIBA awards, the annual celebration of the Society of Independent Brewers, a trade organisation for independent British brewers.
Lemon Top is also a member of the Brewing, Food & Beverage Industry Suppliers Association (BFBI), which is a global organisation for the industry, and has also recently completed a branding process and new website build for the body's bi-annual awards ceremony which attracts entries from around the world.
"That's a big feather in our cap," says Gill.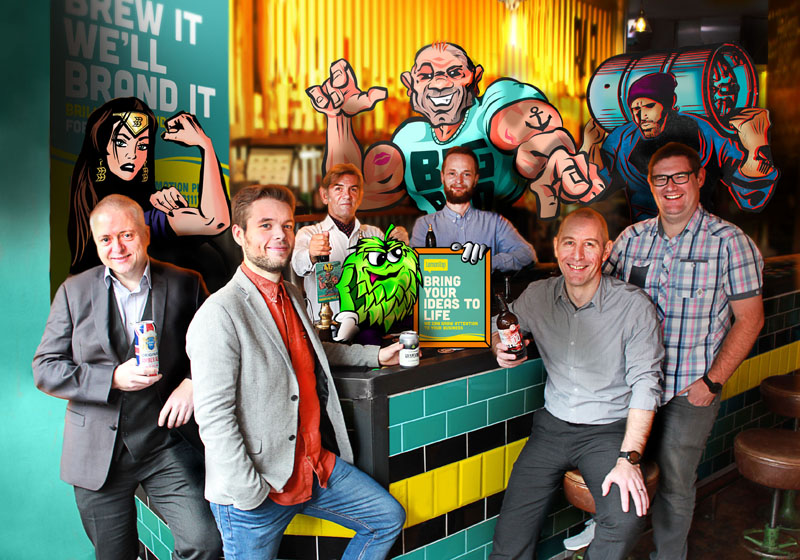 "We'll be at the final awards ceremony in London in July, when all the major players from the industry will be there together, so we're delighted to have worked on that project."
Brexit brought a raft of new leads and contracts from the Far East and all over the world for Lemon Top. They celebrated by launching two new Brexit beers – one smooth, the other bitter, just to cover all options.
Kneeshaw explains: "After the Brexit decision, we suddenly started to receive enquiries from all over the world, especially from the Far East with businesses wanting to do business with the UK, so we've developed that and created links.
"The Brexit beer was just a bit of fun. Like everywhere else in the country, our office is divided over the issue. So we thought, let's discuss it over a beer. Or several beers!"
As well as establishing a firm foothold in the brewing sector, Lemon Top also works with businesses from various other industries including food and beverage, retail, publishing and international trade as well as engineering and manufacturing.
Gill adds: "We're just as happy designing a brand and business card for a one-man-band as we are taking on a full international marketing brief for a multi-national company, or advising on marketing concepts.
"With the years of advertising experience we have between us, we're at home working on large-scale strategies as we are small projects for SMEs."
Lemon Top's impressive list of clients and portfolio of work is backed up by a strong list of professional creative services.
The agency offers branding and brand guidelines, logo design, commercial illustrations, graphic design for print and digital, and it also designs and builds commercial and e-commerce websites.
Creative director Stoutt adds: "We always offer an improved approach to advertising and marketing with fresh ideas and innovative ways to sell products.
"Creative ideas are at the forefront of everything we do. We know that trying to be seen and heard in a visually noisy world is a big challenge. We overcome this by getting to know our clients and their business, and use that knowledge to create productive strategies and inspiring communications.
"From the initial branding and identity of a business, to creative innovative e-commerce solutions, we make sure everything we create will capture people's attention, advertise our clients' qualities and bring their brand to life."
You can contact Lemon Top Creative by calling 01325 311177, emailing [email protected] or find out more at www.lemontopcreative.com