Newton Aycliffe FC have signed a club record sponsorship deal with Mantis Media and Aycliffe Today for the new Northern League season.
The Newton Aycliffe media firm has agreed to sponsor the club's home and away strips as well as the players' tracksuits for the 2015-16 campaign.
Mantis managing editor Martin Walker (pictured above with Aycliffe chairman Allan Oliver) says he's proud to have signed Aycliffe's biggest commercial sponsorship deal to date.
"I've long been a huge fan of the football club ever since I first got involved more than seven years ago," said Walker, who has worked at all levels of football from the Premier League to the Northern League.
"The football club has come a long way since then, when the management team took them from Saturday afternoon park football to the Northern League top flight within a few years.
"There's been a big transitional period at the club over the last year but the mainstay has been the chairman, Allan Oliver, whom I have a great deal of respect for.
"Allan has stuck to his commitment with the football club, despite a couple of difficult seasons fighting relegation, but his passion and ambition to take the club to the next level has always remained.
"The appointment of Peter Dixon as manager and the support Allan has given him this summer, with some ambitious new signings, underlines the ambition that is still behind the football club, and we'd love to be able to play our part in what will hopefully be a successful season.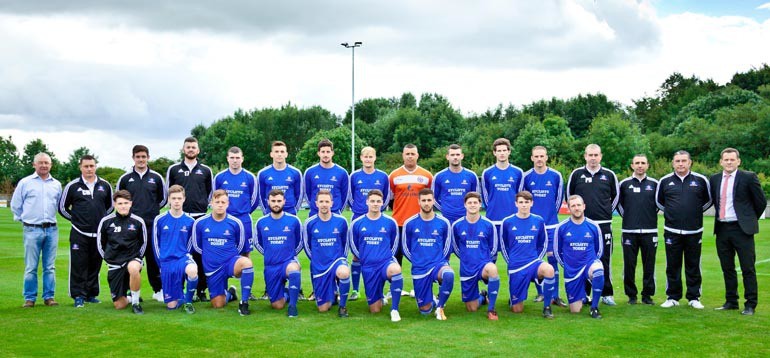 "I also feel it's important for businesses to get involved with their local community in some way, whether that's supporting sports clubs, other voluntary organisations or charities, and because football and Aycliffe are two big passions for me, this was an easy decision for Mantis Media to make."
Walker, who's from Aycliffe and went to Greenfield School in the town, trained as a journalist with the Teesside Gazette before taking up a publications role with Middlesbrough FC in 2000. He joined Sunderland AFC's media team in 2005 and spent four years at the Stadium of Light. Walker also spent just under a year with Spennymoor Town FC in 2013, heading up the club's communications around their FA Vase run and subsequent final at Wembley.
He's now managing editor of Mantis Media Ltd, a PR and publishing company which has offices in Newton Aycliffe and Middlesbrough, producing B2B publications Aycliffe Today Business and Tees Business as well handling PR for a number of Aycliffe firms including Finley Structures, Stiller Warehousing & Distribution, Raisco and Gestamp Tallent.
Aycliffe chairman Oliver said: "This deal is a significant one for the football club – the biggest commercial sponsorship in our history – so naturally we're delighted to have Mantis Media and Aycliffe Today on board for the 2015-16 season.
"Martin has a long association with the football club, and even though he left his official role with us three years ago he has always been a good friend to us and helped us promote events and corporate opportunities.
"It's fantastic to have Aycliffe Today's support and hope we can enjoy a great season together."
Newton Aycliffe have struck a number of other new agreements this summer, including advertising deals with Gestamp Tallent, Upex, OneGym and Lifestyle Fitness.
• Any other businesses interested in sponsoring Newton Aycliffe FC can contact Secretary Steve Cunliffe on 07872 985501 or by email to [email protected]