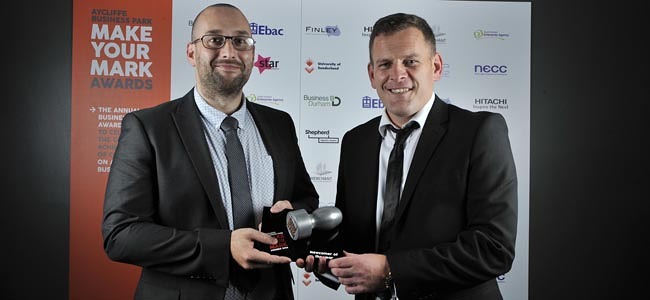 Aycliffe Today's prestigious business magazine picked up an award at Aycliffe Business Park's Make Your Mark event.
Aycliffe Today Business – launched in December 2012 – won the Best Newcomer category, beating off competition from OneGym and training-provider Optimum Skills to the award.
The publication is Aycliffe's only B2B publication, providing firms on Aycliffe Business Park with a unique and popular communication and marketing tool.
Click here to read our latest issue
Published six times a year, the magazine was launched with 16 pages but has rapidly grown to the 36-page publication it is today.
Editor Martin Walker said: "I'm absolutely thrilled to have won this award, which is testament to a lot of hard work and determination to establish the magazine as an unrivalled source of business news and features in Newton Aycliffe.
"It just shows there is clearly an appreciation and demand on Aycliffe Business Park for professional journalism and quality publishing, and we love improving the image of companies and getting their message out there.
"A big thank you goes to Sarah Carlton, from Neon, who gives the magazine its quality look – and also a big thanks to John Finley, from Finley Structures, who has supported me and the magazine from day one."
• Martin is pictured (above, right) receiving the award from Steve Robson, of the South Durham Enterprise Agency, which sponsored the award.
Click here to see a gallery of pictures from the evening.
Click here to see the full list of winners and shortlisted nominees.