Aycliffe Today has appointed a new key manager to drive ambitious growth plans starting in 2020.
Sharon Hutchinson has joined the Aycliffe Today team as business manager to primarily focus on business planning and strategy, as well as the sales and marketing of both Aycliffe Today and its associated Aycliffe Today Business magazine.
Sharon, a lifelong resident of Newton Aycliffe, is now the first point of contact for Aycliffe Today, as she aims to grow the brand by retaining existing customers and winning new clients – with a long-term ambition of creating new full-time jobs.
Sharon's previous role was as operations director for law firm Endeavour Partnership, during which time she was a board member of Aycliffe Business Park Community.
"I'm really excited about this new role and for the future of Aycliffe Today," said Sharon, who is currently chair of Darlington Business Club and was also recently appointed the business representative for Great Aycliffe and Middridge Partnership (GAMP).
"Aycliffe Today has established itself as a strong community platform for local organisations and businesses since it was launched eight years ago.
"I'm looking forward to helping to take the development of the brand to the next level."
Aycliffe Today was launched eight years ago, with a focus on delivering online community, sport and business news, and the business magazine followed in November 2012.
Since then, the magazine has established itself as the business publication for Aycliffe Business Park – the North-East's largest business park, home to 500 companies and an estimated 10-12,000 employees.
Sharon said: "Everyone who knows me, knows I am passionate about supporting local businesses and helping them connect with each other, so working with the Aycliffe Today team is such a natural fit.
"I am really looking forward to building on the great work that has already been done and showcasing more of the fabulous businesses we have on our doorstep."
Martin Walker, director of Aycliffe-based Mantis Media, which publishes Aycliffe Today, said: "This an exciting development for us and I'm confident – as the new "face" of Aycliffe Today – that Sharon will help us to realise our full potential.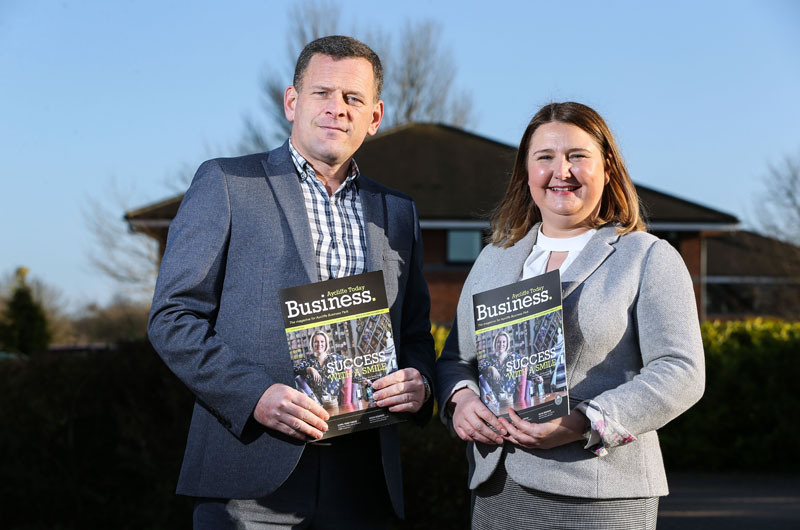 "Aycliffe Today Business provided a launchpad for other publications which I've launched in other areas of the region, so it's important that we maintain the development of the Aycliffe brand with someone who can be locally-based 24-7.
"Sharon is already well connected on the business park and, more importantly, she lives in Aycliffe – and it was important we appointed someone with that local knowledge, as well as contacts."
Aycliffe Today Business provides firms with a unique platform to tell everyone about their services and success stories in its prestigious, high-quality publication.
With an estimated readership of more than 8,000, copies are mailed direct to every company on the firm's database, and the rest are distributed by hand across the park as well as to nearby hotels, restaurants and conference centres.
More than 120 firms have used Aycliffe Today Business for their marketing needs – whether it be for PR, brand awareness, direct advertising or for recruitment purposes.
As well as the business magazine, Aycliffe Today can promote businesses online through its website and social media channels – reaching thousands of people across Facebook, Twitter, LinkedIn and Instagram – with sponsored content from just £295.
Sharon added: "Our team can look after all your requirements. Our trained journalists can write your advertorial features, we can take your pictures and design your ads – all as part of the service, which is a unique service on the town."
To enquire about promoting your business with Aycliffe Today, or to ask for a Media Pack, Sharon can be contacted on either 07940 870310 or at

[email protected]