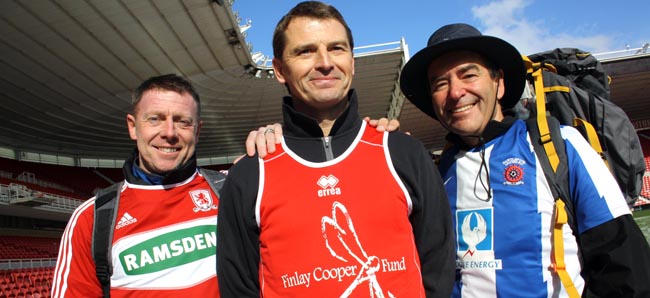 Aycliffe Today and its publishers Mantis Media have adopted a charity set up to improve the quality of life for young children.
Mantis director and Aycliffe Today editor Martin Walker has decided to help out the Finlay Cooper Fund.
The charity was set up by Hartlepool United manager and Boro legend Colin Cooper and his wife Julie, in 2006, to raise funds for children's charities and good causes in memory of the much-loved son they lost in a choking accident shortly before his second birthday.
Martin is working alongside Teesside PR firm Dave Allan Communications to help the charity's Trustees promote its good work in the media.
The Finlay Cooper Fund has raised more than £300,000 since it was founded – £100,000 of that was raised from a high-profile trek to the top of Kilimanjaro, Africa's highest mountain, by a team of 15 that included Cooper and Sky Sports Soccer Saturday anchor Jeff Stelling.
The charity's two main principles – having no salaries or overheads and only donating towards specific causes rather than making general donations – were the main reasons that prompted us to adopt it.
Martin, who previously worked at Middlesbrough FC, said: "I've long been an admirer of Colin and the charity he and Julie set up.
"Not only does the charity have no overheads, which means every penny raised literally goes to good causes, they insist on money being spent for specific reasons.
"There are lots of great causes out there, but donations are often swallowed up by charity black holes – salaries and chief exec's cars, for example.
"The Finlay Cooper Fund's trustees – which includes Colin and Julie – only spend money on specific things, like specialist beds for children, overseas treatment and generally improving the quality of life for youngsters, which is their motto.
"They've already raised a lot of money and enjoyed some fantastic recognition nationally, and I'm looking forward to getting involved."
Cooper, who lived in Woodham Village, Aycliffe, during his first stint with Boro before leaving for Millwall in 1991, has a Dragonfly tattoo on his chest – just above his heart – which is the charity's emblem.
He also wears a Dragonfly lapel, even when on the touchline managing League Two side Pools.
The Dragonfly became important after the death of Finlay, when on leaving hospital a nurse handed him Water Bugs and Dragonflies – a children's book about a water bug's short life before it rises to the surface and emerges as a dragonfly into the sunlight.
"Hearing people's stories over the years, I think we're the lucky ones in being able to help," says Cooper, 47.
"We wanted to do something positive in Fin's name and, thanks to our brilliant trustees and support from so many people, we've done it.
"I consider us very lucky that we can touch people's lives and help them get to where they want to be.
"Our little insular charity is spreading its wings. I'd like us to stay small, but we are reaching out to more places than we ever thought we would."
Find out more about the charity at www.finlaycooperfund.co.uk