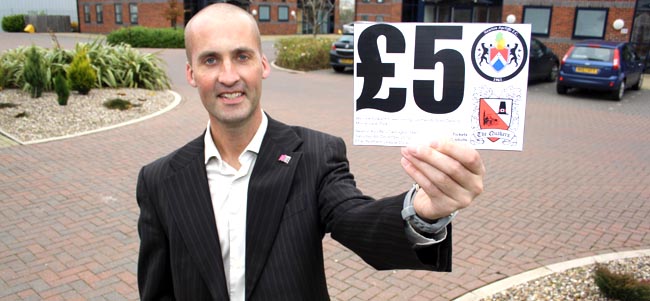 By Martin Walker
Northern League club Newton Aycliffe are making tickets for their huge derby with Darlington available to buy in advance.
Internet reports had been circulating that Aycliffe were considering increasing their normal admission, of £5 adults and £3 concessions, for the Quakers clash on Saturday 8th December.
So the Newtonians have moved to dispel the rumours, while at the same time announcing special plans for the eagerly-awaited fixture.
For the first time, they're making match tickets available to buy – either from behind the bar at Newton Aycliffe Sports Club or via the club's online shop at www.nafc-online.co.uk.
They're also offering advice to fans of both sides, as well as to nearby residents around Moore Lane Park, in the hope of minimising disruption.
The Quakers have regularly taken well over 1,000 to other clubs around the North-East as they bid to climb the non-league pyramid system, having been demoted four divisions in the summer.
And while Aycliffe have experience of dealing with large crowds, they're still making special provisions for the game.
Aycliffe are working with the local police and council to make nearby car parks available, while they're also looking into making a shuttle bus run available from a location near the town into the ground.
Aycliffe's general manager Dan Lewis said: "First and foremost, we want as many football fans as possible to come and enjoy their football at Moore Lane Park, so increasing ticket prices wasn't an option.
"We set our general admission prices at the start of the season and the last thing we want to do is alienate the fans of our biggest neighbours who've been kind to us with friendlies and such like in the past.
"Darlo fans are proving to be among the most ardent in the country, and it would be wrong to try to capitalise on their loyalty."
Fans who have bought tickets in advance will gain quicker access to the ground on the day through a designated ticket-only gate, while a cash-only turnstile will also be in operation.
Plans are now being made to make sure the game goes ahead smoothly.
Lewis added: "With a big crowd expected it brings a lot of extra responsibilities for the club.
"Fortunately we've had the experience of big crowds before at the ground and that has helped with our preparations.
"By putting tickets on sale, we can guarantee the fans access to the game and ensure they're not stuck in a large queue on the day.
"We want everyone to have a thoroughly enjoyable time at Moore Lane Park and we hope those who are coming for the first time will be back again in the future."
Those who are looking to buy tickets on the day are advised to arrive early to avoid delays gaining access into the ground.
The club are hoping to break the all-time Moore Lane Park record of 1,307, achieved in 2010 when then Quakers boss Mark Cooper watched his Blue Square Bet Premier side beat Aycliffe 2-1 in a pre-season friendly.
Tickets can be bought safely and securely online at www.nafc-online.co.uk