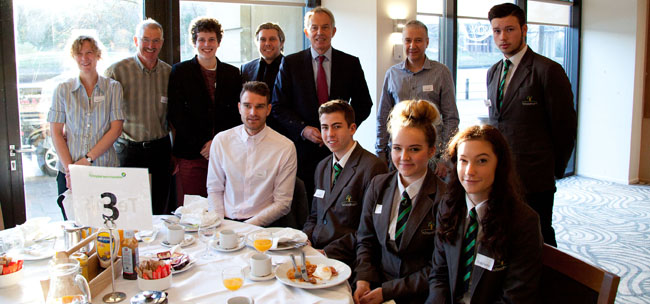 A number of Newton Aycliffe students got to meet the former Prime Minister Tony Blair during a special event.
The youngsters attended the Tony Blair Sports Foundation's sixth birthday party at the Copthorne Hall Hotel in Newcastle.
Joshua McNulty, Gabrielle Welsh, India Roddam and Haydn MacLean – all from Woodham Academy – enjoyed breakfast and chatted with Mr Blair, who was Member of Parliament for Sedgefield for 24 years, about opportunities they've had within the school's Sports Academy.
Last summer, Woodham Sports Academy created a new and exciting partnership with the Sports Foundation, which would see students develop their leadership skills by taking part in and delivering courses, activities and festivals.
Tennis was the sport chosen and 16 students will have the opportunity to work alongside Michael Hume (Tennis coach for the Foundation) completing a Tennis Leaders Award and hosting a tennis festival for our local primary schools.
The event itself will take place on Tuesday 1st April and will involve 64 students playing tennis, umpiring and officiating and organising the festivals format.
Sports Academy director Liam Clough said: "This partnership is a fantastic opportunity for our students to develop and excel in leadership.  The Tony Blair Sports Foundation has a fantastic reputation for leadership and this was something that we wanted to offer our students."