With just over five weeks to go until the opening night of Kynren – An Epic Tale of England', Woodham Academy students got the chance to visit the site to take a look behind the scenes at one of the biggest North East attractions.
The group of Year 10 students arrived at the venue in Bishop Auckland. This currently resembles a building site but is being rapidly transformed in to a 7.5 acre stage, a tribune stand with capacity for 8,000 spectators and a full sized lake which will transform the set with vast hydraulic systems creating a cinematic experience.
Paul, a representative from the Community team at Eleven Arches, the charity behind the development, greeted the group, leading them into the office for a presentation. Paul explained that Kynren, a spectacular night show depicting 2,000 years of British history on a scale never seen before, is in collaboration with the team behind the live historical extravaganza at French theme park Puy du Fou.
Kynren tells the story of England, seen through the eyes of a North East boy called Arthur, who encounters myth, legend and history from Roman times to World War II.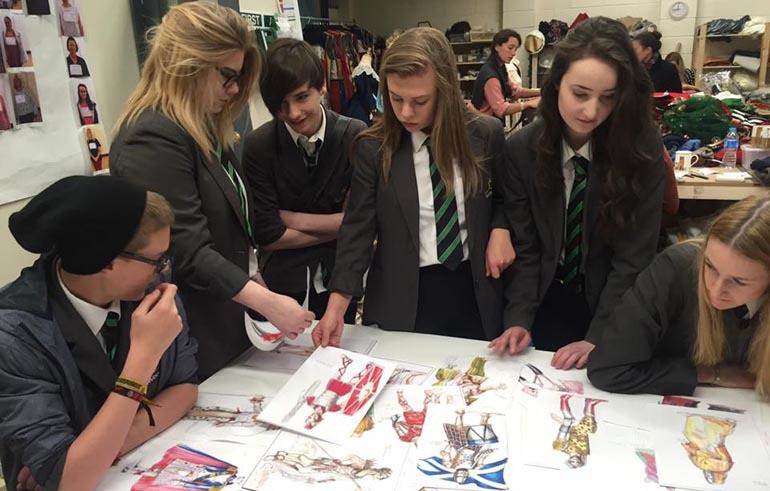 A cast and crew of more than 600 will bring the show to life on each night, along with pyrotechnics, lighting, water jets and music. Hundreds more volunteers are involved in the attraction, which it is hoped will help regenerate the town and celebrate the regional and national heritage.
After a fascinating presentation, the group of students made their way in the town centre to the costume workshop. Small teams have been working tirelessly for months to create an array of historical costumes for the hundreds of cast members. The students, many of whom are studying GCSE Textiles, were taken on a tour of the workshop taking in the different elements of creating the authentic outfits and the process of catering for such a large cast.
The day ended with a visit to the beautiful Auckland Castle, from which you can see the arena of Kynren taking shape. All of the students were inspired during the visit and excited to see the show which starts on Saturday 2nd July and will run for 14 nights.