Two buildings built by Newton Aycliffe steel firm Raisco have been recognised with industry awards.
AV Dawson's state-of-the-art steel store, which opened in February, has been awarded Best Large Commercial Building in the Northern heats of the Local Authority Building Control (LABC) Building Excellence Awards.
Meanwhile, Billingham's new £2.7 million Library and Customer Service Centre (pictured above), made from steel fabricated and erected by Raisco, has won Best New Public Building at the same competition.
Raisco managing director Gary Raistrick, who formed the company in 2007, said: "It's extremely pleasing to see both buildings recognised in this way.
"We're very proud of the work we do and we have a very conscientious team which prides itself on quality work.
"It's fantastic for us to work on such important projects, but even better to see all of the hard work being rewarded."
AV Dawson's new warehouse, pictured below, supports both the steel and automotive industries in the North East by providing an ideal base for steel components to be transported and stored in a heat and humidity controlled environment, ready for just in time delivery to the factory.
The firm's managing director Gary Dawson said: "This award is a well-deserved accolade to all the people and companies who were involved in the creation of this warehouse.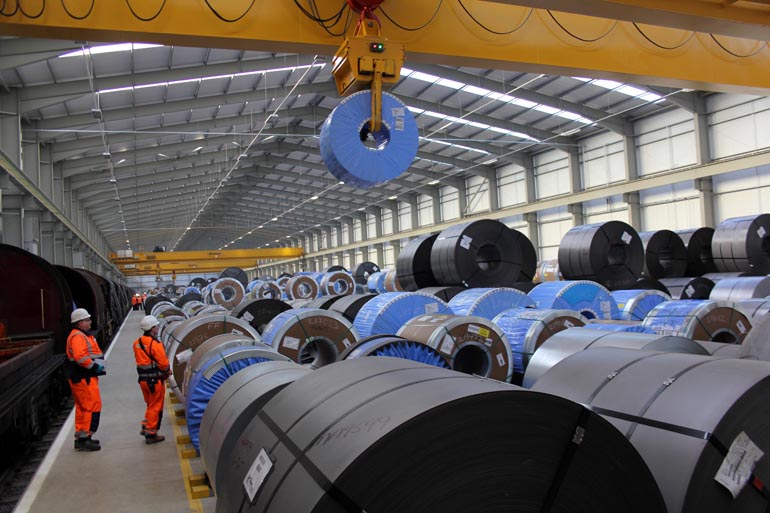 "This building was a real combination of efforts between our local council, suppliers, our own site services team and our customer TATA Steel to ensure we were building something truly great and unique to this region – and this award has demonstrated our achievement of this goal."
The new Billingham Library, which opened in January, was designed by Stockton Council and built by Stockton-based company Interserve Construction, with Raisco constructing its steel frame.
The state-of-the-art facility sits on the site of the town's former Art Gallery and council offices.
It acts as a 'one-stop shop' with new and improved library facilities including the latest in self-service technology, improved ICT and reference facilities combined with customer services for Stockton Council and Thirteen housing group. It also houses a cash office and Billingham Town Council's headquarters under one roof.
Stockton Council's cabinet member for Regeneration and Transport, Cllr David Rose, said: "The judges were impressed with Billingham's Library and Customer Service Centre which is an attractive, modern facility offering residents a host of first- class services under one roof.
"We take great pride in ensuring our new buildings not only look good but are built to the highest standards."
The next stage of the LABC competition will see both AV Dawson's warehouse and Billingham Library entered into the LABC finals, which will take place in London, where winners from all 12 regions will compete for the national title.
Since being formed by Gary, Raisco has rapidly grown into one of the country's leading construction and steel fabrication firms.
The firm – which employs 35 staff at its 35,000 square foot premises in County Durham – has diversified from purely a structural steel company to having the ability to provide a full construction package.
It now works with clients up and down the country and has delivered a wide range of fabrication and secondary steelwork projects for many of the construction industry's well-known main contractors as well as turnkey solutions for end-user clients.