A Newton Aycliffe steel firm has helped to construct the biggest house ever to feature on Channel 4's popular TV show Grand Designs.
SCH Site Services, based on Aycliffe Business Park, provided the steel for the sprawling, 60-metre long bungalow in deep West Sussex which left presenter Kevin McCloud almost speechless.
The extraordinary home was the brainchild of successful businessman Clinton Dall, a self-proclaimed perfectionist who said at the start of the programme money was no object.
But when the project topped the £1m mark – with £120,000 being spent on tiles alone – the managing director of Middlesex-based Dall Cleaning Services had to sell one of his prized sports cars to fund the venture.
McCloud, who has presented the show since it first aired in 1999, appeared stunned by the sheer scale of the project when he arrived to view the steel frame, which was fabricated in Newton Aycliffe and transported to site in Sussex.
SCH Site Services managing director Gary Finley said: "We travelled to Sussex and we ended up spending three days down there, but only because we were delayed by the film crew.
"We got the wagon in with great difficulty. It was a 45-foot trailer carrying 18 tonnes of steel. There were a few things smashed and part of the road leading into the site was damaged. But we got there in the end.
"The TV crew watched us struggle on and they interviewed our operations director, Andy Braid, a couple of times.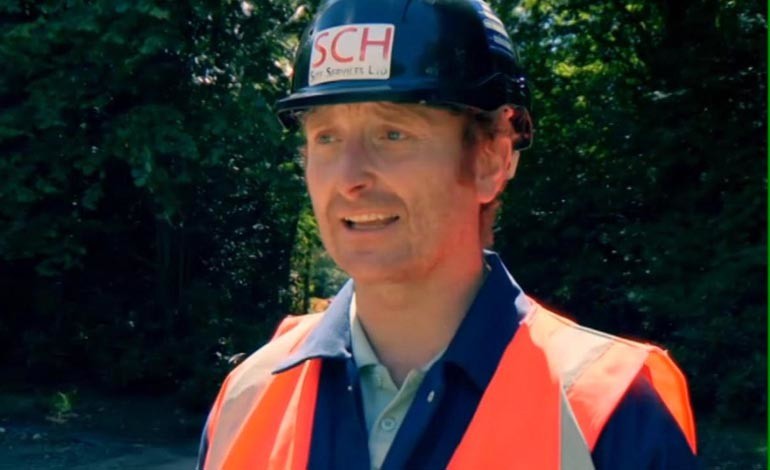 SCH Site Services operations director Andy Braid appeared on Grand Designs show in September.
"We erected 75% of the building on the first day, but then we were held up for nearly a full day because we had to wait for the film crew to get there.
"But it was a very interesting project for us and a great experience. The house itself was just unbelievable. It was 60 metres long and he didn't want a single step, so it was completely flat throughout – that was his vision.
"Someone said he budgeted £85,000 for the tiles and he ended up spending £120,000. On tiles."
The Grand Designs project, which was aired in September, is one of a number of interesting contracts SCH has been working on over the last year.
The Aycliffe firm recently completed a 350-tonne job for Sir Robert McAlpine at the Metro Centre's £11m Qube II extension.
They have also completed a 150-tonne job building a new coal washing plant at Merthyr Tydfil in Wales for Chilton-based Parnaby Cyclones on behalf of Welsh mining and resources company Miller Argent.
SCH has also been busy working on two Glulam (glued and laminated) wooden structures for Derby-based B&K Structures, part of the Bowmer & Kirkland group.
One of the projects was at BSkyB's HQ near Heathrow Airport, and another was at Pinewood Studios, Buckinghamshire, where they've constructed five kit-form buildings using huge Austrian wood beams each weighing four-and-a-half tonnes.
"We've certainly had a varied year with some interesting projects in different parts of the country," added Gary.
"The Glulam projects are effectively kit-form buildings. They come on a wagon and they slot into place. They're designed to be more environmentally-friendly – sustainable structures – and I don't think anyone is building them on the same scale as B&K Structures, who we've worked closely with for a number of years."
Closer to home, SCH have also constructed a 150-tonne project for Huntsman Tioxide at Greatham, near Hartlepool, for a new chlorinator, which involved using a 400-tonne crane to complete its complex roofing system.
The colourful portfolio of projects enabled SCH to record a £4.5m turnover earlier this year.
Formed in 2006, SCH first operated as a crane hire company with four mobile cranes and four drivers working for local companies, but it grew into steelwork and in 2011 recorded a turnover of £325,000.
After moving into new premises in 2012, sales grew to £2.2m and then £3.43m before hitting £4.1m in 2013, £4.1m in 2014 and £4.5m this year, while staff numbers have also doubled to 40 in the last four years.
As well as Sir Robert McAlpine and B&K, SCH also boast Wates Group (formerly Shepherd Construction), Robertson's North-East, Hall Construction, Peikko and Balfour Beatty among their client list.
For more details about SCH, go to www.schsiteservices.co.uk or call them on 01325 327149.