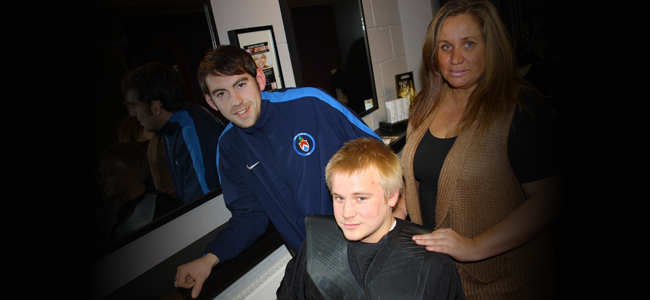 By Martin Walker
Two Aycliffe players are the first to take advantage of a new men's walk-in barber service at one of the town's top beauty salons.
Stuart Owen and Chase McMullen have been given new barnets by Noir Hair and Beauty's latest recruit, Gillian Atkinson.
Gillian boasts years of experience and is a well-known, popular hair stylist on the town.
The gents walk-in service is now available every Thursday and Friday between 12 and 6pm, costing just £7.
Noir Hair and Beauty, based at St Cuthbert's House on Aycliffe Business Park, was launched last October.
They have two full-time female specialist hair stylists, Kayla Forster and Helen Barry, as well as fully-qualified beautician Jade Copelin.
Current offers include 50% off all ladies' hair services and 40% off all beauty treatments – both right up to the end of February.
Noir Beauty's opening hours are 9am-6pm (Mondays, Tuesdays and Fridays), with late nights Wednesdays and Thursdays (9am-8pm) and 9am-4pm on Saturdays.
To book an appointment with any of the girls, call 01325 313391.