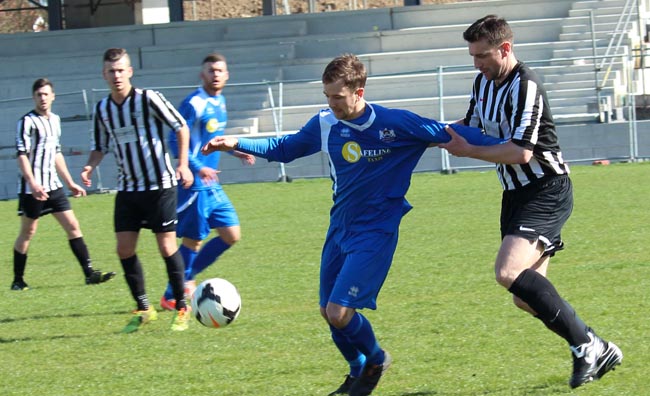 Ashington 1, Newton Aycliffe 2
By Bob Wood
Newton Aycliffe FC secured their First Division status in style on Saturday with a 2-1 win at a windswept Ashington.
The Colliers have been the Northern League's in-form team of late, but their seven-game winning streak was brought to an end by a determined Aycliffe side.
As has often been the case Aycliffe relied heavily on their defence to keep their opponents at bay. Dan Mitton and particularly Mark Stephenson were outstanding in the centre.
The home team applied early pressure on the Aycliffe goal but stand-in keeper Nick Christoloudou made some fine saves to keep his team in the game, one of them being a remarkable effort getting a hand to a shot despite being on the ground injured!
It was Aycliffe though who took the lead on 24 minutes when Paul Garthwaite was fouled 20 yards from goal. Jordan Laidler lined up the free kick and scored with a well struck shot which evaded the wall.
Ashington equalised in the 67th minute with a shot from Taylor which looped into the net.
Aycliffe came back at the home side and again Laidler was involved. Running into the box he found himself bundled to the ground and the referee awarded a penalty. Stuart Banks was as reliable as ever from the spot, placing the ball beyond the keeper's reach.
This performance was an excellent way to end the league season.