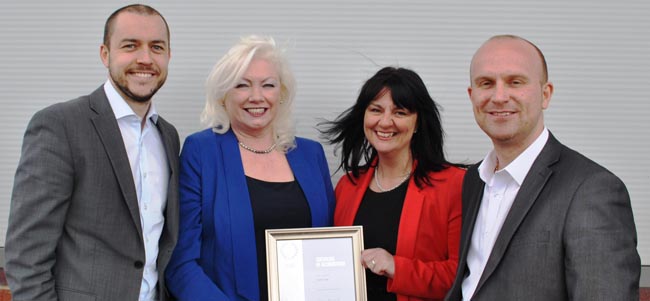 A Newton Aycliffe-based recruitment agency has marked 35 years in business with its silver Investors In People (IIP) accreditation.
Temp-Team, which is head quartered in Gateshead and has a base on Aycliffe Business Park, has been praised for regularly developing its team, playing to its people's strengths and encouraging new ideas in the work place.
The IIP report suggests strong evidence that the pioneering agency, which has ten branches in total, is in good stead for the Gold accreditation which they are able to put themselves forward for in three years' time.
Paul Devoy, head of Investors in People, said: "Achieving the Investors in People Silver standard is something that any organisation should be truly proud of.
"It is the sign of a company which is very committed to good people management practice and we'd like to congratulate Temp Team on their achievement."
Julie Cummings, managing director of Temp-Team, said: "This accreditation means so much to us all as IIP is all about the development of people, which we at Temp-Team are too.
"The recruitment industry has always been cutthroat and the market place is naturally competitive.
"Our people are our greatest asset and advantage and we can't thank them enough for all of their hard work!"
One team member praised the company for listening to its employees, he said: "They have always got time to listen to people. If I have any ideas I can shout up."
"It's fantastic to hear this feedback as treating people well is one of our core values!" Julie added.
Temp-Team, which was accredited Bronze IIP in 2010 and has also received the Health and Wellbeing Good Practice Award, has exciting plans to expand into the rail sector within the year.
The agency specialises in permanent and temporary recruitment for all business sectors and sizes. It's currently celebrating 35 years in business.
For more information, visit: www.temp-team.co.uk