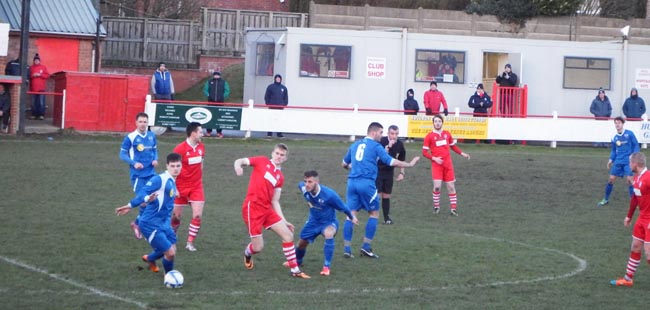 Shildon 3, Newton Aycliffe 1
Newton Aycliffe were left to curse their ill-discipline as they threw away three points against title challengers Shildon on Saturday, imploding in the second half which saw them surrender their early lead and have two men sent for an early bath.
Dennis Knight gave the visitors and early lead on the counter attack as the Newtonians cleared a Shildon corner following James Winter's fine stop from midfielder Mark Donninger.
Winter made a couple of other saves in the first half as conditions varied between rain, high winds and even snow as Dean Street came under attack from the elements on a typical January day.
In the second half Knight had the opportunity to put the game safe but embarrassingly miscued his effort when one-on-one with Kyle Hayes while at the other end Lee Chapman tested Winter's acrobatics by sending a free kick towards the goalkeeper's top corner.
Cue Andrew Green – no stranger to controversy – and the moment of madness which was to invariably swing the tide of the game. Challenging Billy Gruelish-Smith for the ball, Green deliberately swung an elbow into the face of the forward leaving the referee with one of the easier decisions of the afternoon.
Five minutes later the Railwaymen were level as skipper Mark Hudson reacted first to a melee in the box and a further five minutes later they went ahead as Daniel Moore bundled home a corner as Aycliffe started to wane.
Substitute Chris Emms put the icing on the cake following a rare flowing move in the 87th minute, just before Stuart Banks collected his second yellow card of the afternoon to compound Peter Dixon's misery.
Aycliffe: J Winter, Brown, Oldfield, Mitton, Green (red card), Archer, Garthwaite, Boagey, Coffey, Knight, Banks (red card). Subs: C Winter, Young, Henderson, Laidler, Stephenson.