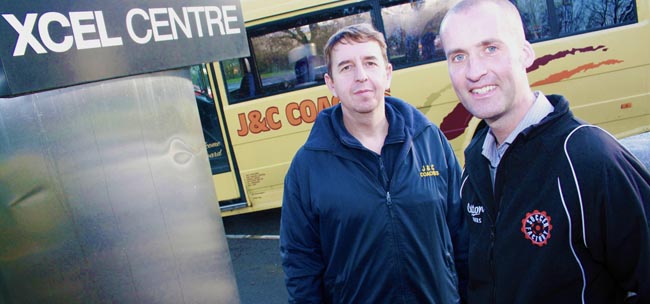 Northern League club Newton Aycliffe are laying on a shuttle-bus service for their big derby with Darlington next weekend.
Aycliffe have teamed up with local family firm J&C Coaches and the Xcel Centre to offer the park-and-ride facility from Aycliffe Business Park to Moore Lane Park (MLP) before and after the game on Saturday 8th December.
With parking restrictions in operation around the Sports Club (police plan to cone off most nearby residential areas), the service is to encourage fans of both sides to use 100 parking spaces available at the Xcel Centre, which will ease congestion around the ground.
Users of the service are asked to make a donation of at least £1 each towards running costs.
Aycliffe general manager Dan Lewis, pictured with J&C's managing director Neville Jones in the Xcel Centre car park, said: "We're doing everything we possibly can to help ease congestion and disruption, and we're encouraging fans of both sides, particularly those coming from out of town, to use this service, which will only help to streamline operations on the day.
"The main message here is to plan your trip to Moore Lane Park for this game and give yourself plenty of time. Bunch-up in cars wherever possible, use public transport and taxis, or even have a nice healthy walk to the ground!
"Parking around the Sports Club is extremely limited so we're doing all we can to minimise local disruption.
"But a big thanks goes to our local neighbourhood policing team, who have been extremely proactive and supportive, as well as J&C Coaches and the Xcel Centre, who have enabled us to put this bus service on."
A pre-season friendly between Aycliffe and Darlo in August 2010 fetched a record 1,307, and another similar attendance is expected for the first-ever competitive game between the sides at MLP, which kicks off at 3pm.
There will be a ticket-only entrance in operation for the game, a facility designed to avoid a bottle-neck of fans on the day, with tickets available in advance (priced £5 adults and £3 concessions), either from the Sports Club bar, or online at www.nafc-online.co.uk