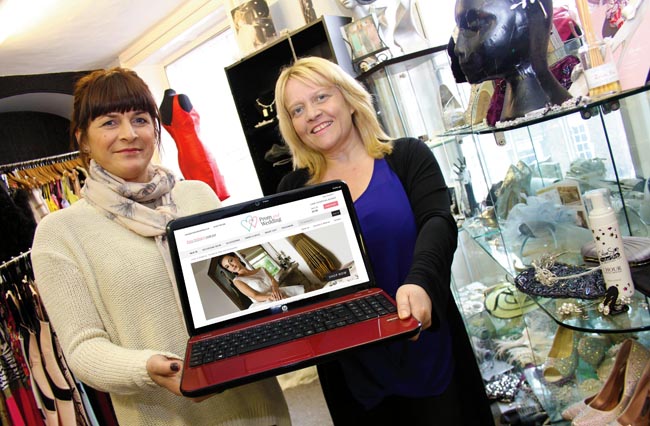 By Ryan Burton
Two businesswomen from Newton Aycliffe have set up a new website selling specialist dresses online.
Liz Lambert and Nicola Maull, both born and raised in Aycliffe, have created Prom and Wedding, an online boutique specialising in wedding and prom dresses.
The two have followed the ever-growing trend of businesses deciding to set up their trade online.
It has been a quick progression from a discussion between the two to the full set up of the business.
"We first talked about the idea in October last year," said Liz, pictured above (left) with Nicola.
"The website has been set up a few weeks now. It is just something different."
Business partner, Nicola, has a showroom in Yarm, which was opened as a base for her other business, Euphoria Boutique.
"People can visit us in person here if they want to try on their dresses," said Nicola.
While www.promandwedding.co.uk stocks what is on the website, Liz has encouraged people to get in touch if they have requests for something different.
Liz added: "If anybody wants a particular style or a particular colour for a dress that isn't in stock then we'll try our best to help."
The swift set-up of the business has been aided by the Great Aycliffe and Middridge Partnership (GAMP) 'Step Into Business' project.
A scheme set up to help fund new up and coming businesses. Liz has been quick to thank them.
She said: "I had help from my parents to help fund my half of the business but GAMP gave me £850 to help with the cost of setting up the website.
"Nothing comes free nowadays and things like this are not cheap. It has been a huge help."
GAMP co-ordinator Brian Riley said: "The GAMP Step into Business project has given Aycliffe residents the opportunity to fulfil their dream of starting a new business."
He has urged potential business owners to follow in the footsteps of Liz and Nicola.
"Aycliffe Residents are given excellent information, advice and guidance from the Business Advisors at South Durham Enterprise Agency about all aspects of starting a business," he added.
"They get a funding grant to meet start-up costs if they meet the criteria. Prom & Wedding is a fabulous example of Liz and Nicola grasping an opportunity to start a new Internet business.
"We wish them every success in the future."
You can visit the website by clicking on the link below, or alternatively can visit their facebook and twitter pages also listed below.
www.facebook.com/weddingandprom