Great Aycliffe Town Council is hosting a Horticultural Show later this summer.
The event will be held ay the Oakleaf Sports Complex on the weekend of Saturday August 31 and Sunday September 1.
More details are included below, along with rules of entry.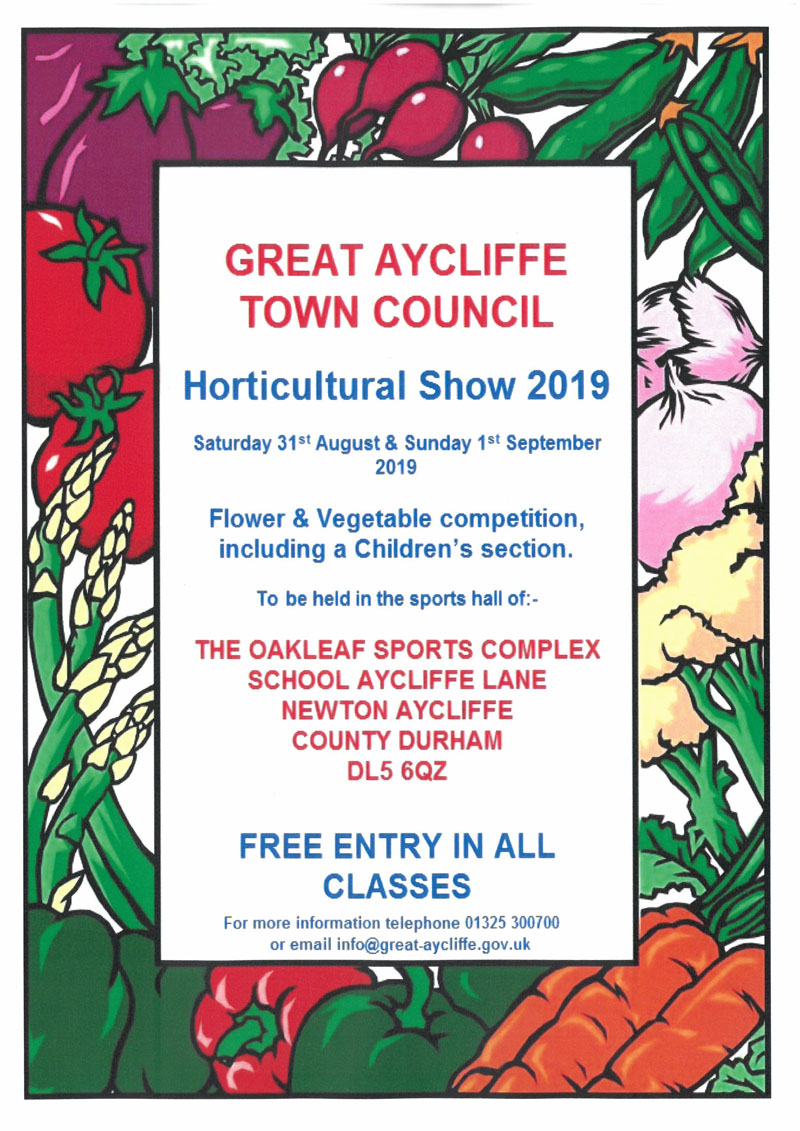 RULES OF ENTRY AND INFORMATION.
Closing date for entries will be 30pm Friday 23rd August 2019. NO ENTRIES WILL BE ACCEPTED AFTER THIS DATE. Early applications are appreciated.
Children may enter within their own age group and the adult classes.
ONLY 2 ENTRIES PER PERSON PER CLASS.
The Organisers reserve the right to refuse an entry and in the event of such refusal, shall not be compelled to give a reason.
Exhibiting labels to be collected from the Steward in the Sports Hall between 9.00am-10.45am on Saturday 31st August 2019.
All exhibits to be benched between 9.00am-11am on Saturday 31st August 2019.
Exhibits after this time will not be accepted.
Exhibitors are responsible for their own stands and vases.
All vegetables to be fresh pulled and washed.
Exhibits benched in the wrong class will not be judged.
Only the exhibitor and one person to assist will be allowed in the Sports Hall.
Any Exhibitor found interfering with any stand within the Sports Hall will be disqualified from entering.
Judging of all sections will commence at 11.15am. The hall will be closed to the public while judging is taking place.
In all cases the Judges decision is final and binding.
Great Aycliffe Town Council reserve the right to cancel any class without notice.
Any prize may be withheld or modified if in the opinion of the judges the exhibits are undeserving of the prize offered.
Security will be maintained in the Sports Hall throughout the period of the show. However, Exhibitors are reminded that they exhibit at their own risk.
Exhibits may be lifted by Exhibitors between 2.00pm – 3.00pm Sunday 1st September 2019. All remaining produce will be auctioned, and proceeds will be donated to the Mayor's chosen charity.
Trophies, certificates and prize money to be distributed on Sunday 1st September 2019 between 1.00pm and 4.00pm. After these times, prizes must be collected from The Council Offices, School Aycliffe Lane, Newton Aycliffe, DL6 6QF during office hours.
All prizes to be collected and signed for by the prize winner.
Prize money to be claimed within 7 days.
SHOW JUDGE
To be announced.
TROPHIES
Class 1 – 2 Pot Leeks
1st, 2nd and 3rd
Class 2 – 2 Long Leeks
1st, 2nd and 3rd
Class 20 – Multi-vase (3×3) Dahlias
1st, 2nd and 3rd
Class 22 – Multi-vase (3×3) Chrysanthemums
1st, 2nd and 3rd