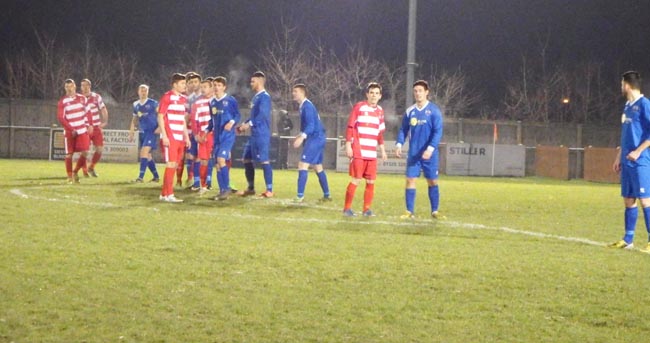 Newton Aycliffe 4, Marske United 1
By Bob Wood
Newton Aycliffe ended Marske's hopes of retaining the Northern League Cup with a 4-1 win at Moore Lane Park on Tuesday night.
The match had been in doubt throughout the day but at a 5pm inspection referee Terry Fletcher decided that the pitch was playable and that conditions should not get significantly worse as the evening progressed.
Aycliffe started well finding the net after just 10 minutes. Threading his way through the defence Zak Boagey fired past Marske keeper Robert Dean.
Within a minute it might have been two had Dean not been able to tip over a 30-yard free-kick from Liam Henderson.
As half-time approached Marske applied pressure on the Aycliffe goal and keeper James Winter had to make some good saves.
However in the 45th minute the resistance crumbled as Reece Kelly advanced on goal. The challenge on him might have led to a penalty but the referee allowed play to continue and Austin Johnston put away the equaliser.
As the second half began Aycliffe looked to retake the lead. On 51 minutes Jack Gibson had a good shot from long range saved by a flying Dean, who again rescued his side with another stop from the corner that followed.
At times players had difficulty keeping their feet on the increasingly slippery surface.
After an hour Boagey found himself through but was beaten by the pitch rather than the defence as he lost his footing.
Boagey was sure footed though after 68 minutes when he scored from the penalty spot. Man-of-the-match Jack Gibson, 17, made a good run into the box before being bundled over. The referee pointed to the spot and Boagey did the rest.
Marske applied themselves to seek another equaliser but the tie was put beyond their reach after 87 minutes when Gibson played a perfect ball through to Liam Henderson who only had the keeper to beat. The same two players combined just a minute later to score Henderson's second and Aycliffe's fourth.
It was an excellent win for Aycliffe over the cup holders, who lie fourth in the Ebac Northern League first division.
The game was the first of a double-header against Marske who we face again on Saturday, this time at the GER Stadium. Marske will be keen to exact revenge and resume their league title bid.
NAFC FIXTURES
Sat 24th Jan: Marske Utd (A) 3pm
Sat 31st Jan: Sunderland RCA (H) 3pm
Sat 7th Feb: Penrith (A) 3pm
Sat 14th Feb: Celtic Nation (H) 3pm